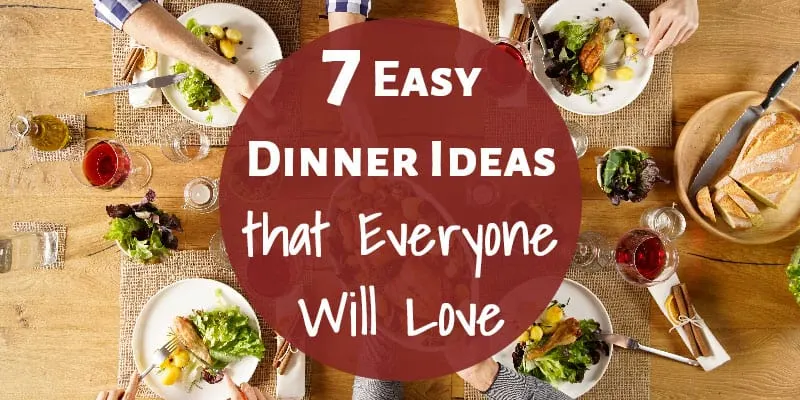 Picky eaters, various diets, or food allergies. It can feel impossible to feed people when no one will eat the same thing!
The hard truth is that if the people you're feeding won't all eat the same thing, it will be more difficult, time consuming, and possibly expensive than you would like to create meals. But! That doesn't mean that we can't simplify things and make them as easy as possible.
I've rounded up a bunch of meals you can make where everyone can make theirs in a way that aligns with their preferences/needs.
Another great thing about these meals is that everyone gets to put their meal together how they like it, meaning once you've set out the fixins, you can make your meal and enjoy it without having to serve everyone.
Sidenote: Don't forget to grab my free weekly meal plan printable. I use this printable every week to plan our meals!

[convertkit form=830245]
7 Easy Dinner Ideas that Everyone Will Love
Tacos
With so many topping options, everyone can make a taco they will like!
We've served tacos when we were having a friend over who has a dairy allergy. She skipped the sour cream and cheese, but still had a delish meal. Low carb people can skip the tortilla. Vegetarians can go heavy on the beans and veggies. Picky eaters can make a taco with whatever they're willing to eat.
Just to get you thinking, here are some ways taco ideas for ya:
Add Variety:
Serve tacos on flour or corn tortillas, tortillas chips or corn chips, or on large pieces of lettuce.

Add sliced onions and peppers while you brown the ground beef to have some cooked veggies in the tacos.

Use ground turkey or chopped chicken instead of ground beef.
So Many Topping Choices:
Shredded Cheese. Mix it up with sharp cheddar, pepper jack, a taco blend, or any other kind of cheese.

Sour Cream

Salsa

Guacamole

Lettuce

Diced Tomatoes

Taco Sauce

Rice

Black Beans

Refried Beans

Fresh Cilantro

Avocado Slices

Chopped Jalapeños

Lime Wedges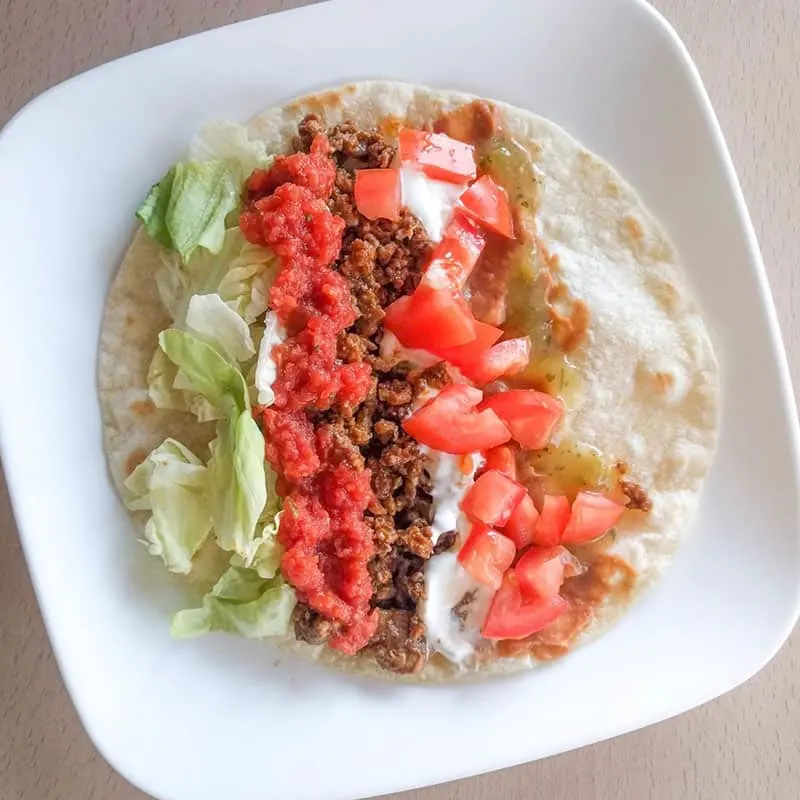 Chicken Wraps
When my family stayed with us one year for Christmas we ate a lot of wraps! We all prefer slightly different kinds of foods and it's just hard to find meals that everyone will enjoy. Add two little kids to the mix and it got more tricky. Wraps worked perfectly!
I lightly seasoned boneless skinless chicken breasts and then cooked them in my instant pot, so there was plenty of cooked meat available. We had a lot of veggies, sauces, and fixins for each person to make up their wrap how they wanted.
Austin and I eat chicken wraps for dinner almost every week and have debates about whose flavor combination is the best. Of course, we each prefer our own!
Add Variety:
Use flour tortillas or flavored sandwich wraps.

Eat it cold or wrap it up and heat it on the stove on low heat until the inside is warm and the outside is golden brown.

Change up the seasoning or marinade that you cook the chicken with.
Fixins
Sliced Green Peppers. These are great in place of lettuce if you're heating your wrap.

Onion

Lettuce or Spinach

Bacon or Bacon Bits

Jalapeños

Tomatoes

Shredded Cheese. Try various kinds for different flavors.

Fresh Cilantro

Ranch Dressing

Hot Sauce

Pesto

Caesar Dressing

Avocado

Mayo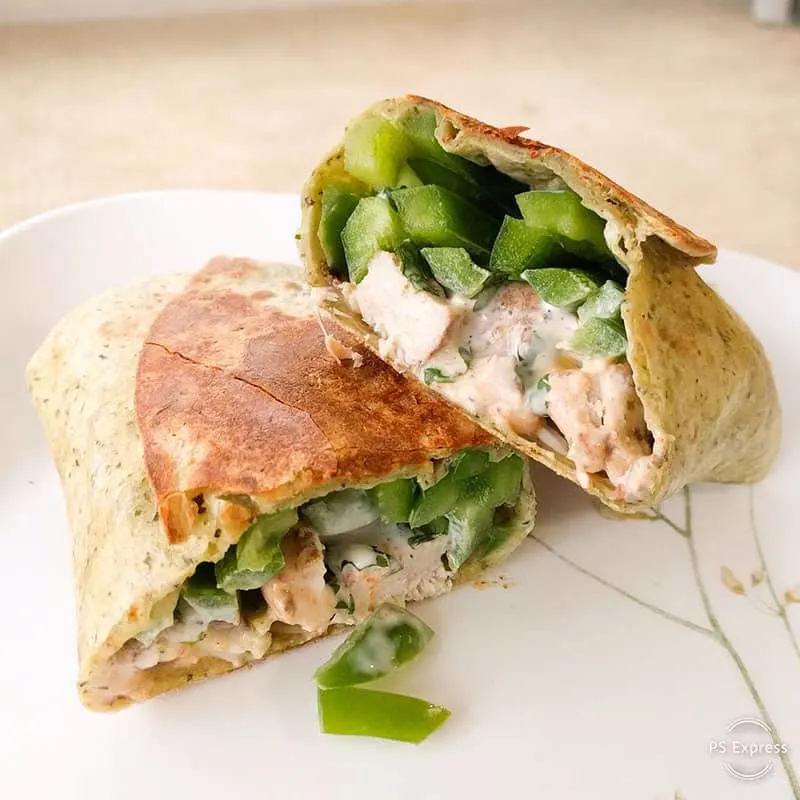 Subs
Subs are another great option that everyone can enjoy. Just look at all of the different people who eat at Subway! There's a sub for everyone. And just like a sub shop, you can eat your sub cold or layer on the meats and cheeses and then toast it in the oven for a few minutes before adding the rest of the toppings.
We made subs for a birthday party once and it was a hit!
Obviously you don't need to buy everything on the list below. Just use it as an ideas list. Choose a few meats, cheeses, veggies, and sauces so that you have a variety.
Choose Your Fixins:
Bread: Get really good hoagie bread, a loaf of french bread, sourdough, or rye bread.

Ham

Turkey

Chicken

Hard Salami

Bacon

Cheese: So many varieties!

Lettuce

Spinach

Thinly Sliced Green Pepper

Onion

Jalapeños

Yellow Peppers

Tomato

Olives

Mustard: Try different kinds

Mayo

Pesto

Oil and Vinegar

Apple Cider Vinegar: A splash of this is our must-have secret ingredient.

Salt and Pepper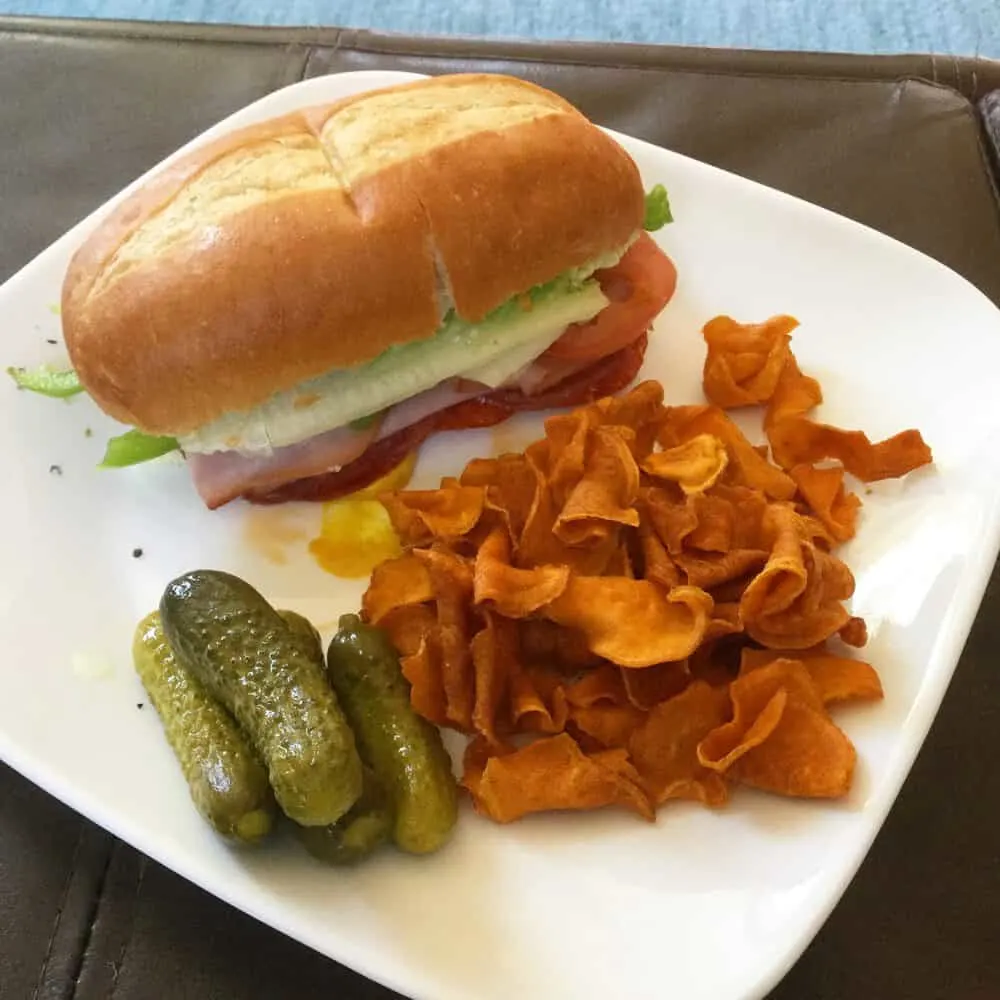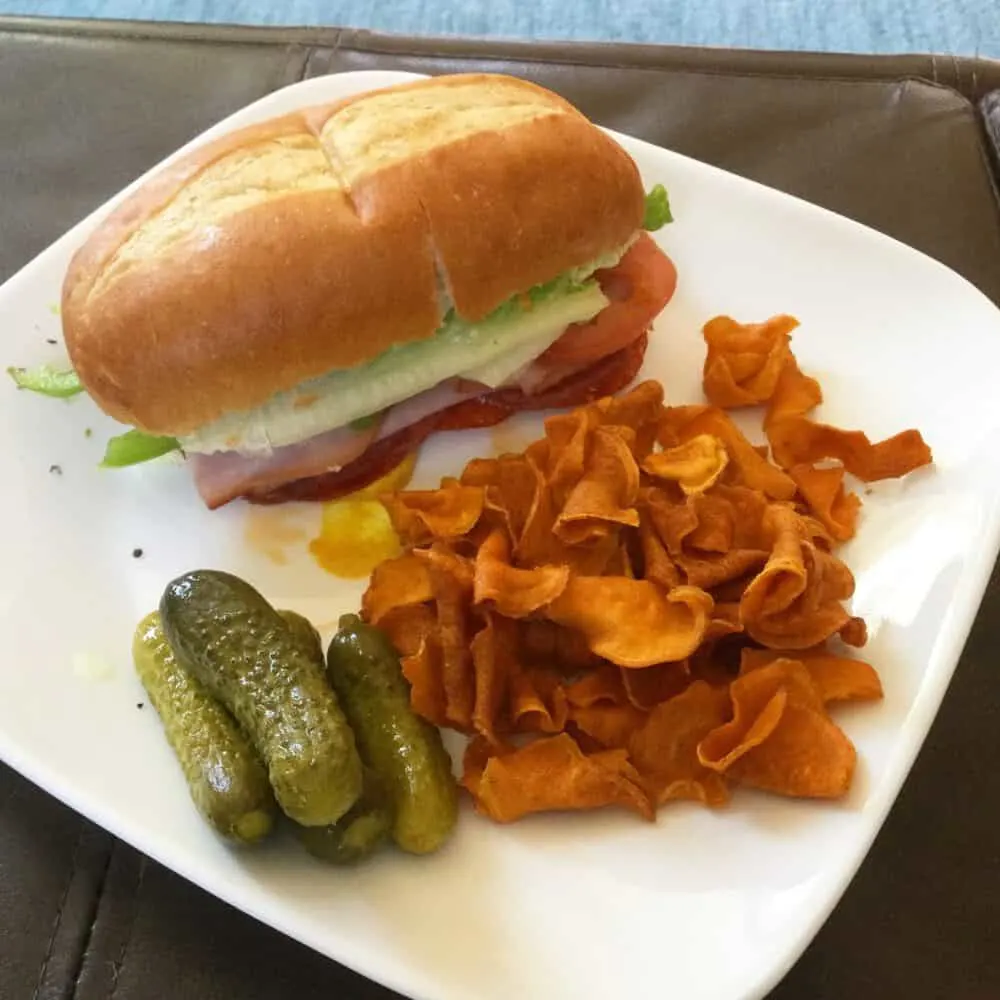 Burgers
Burgers might not seem all that flexible for different kinds of eaters, but they can be! We always buy frozen burger patties and you could easily store beef, turkey, veggie, and salmon burgers in your freezer. Just pull out what each person wants for a meal and grill them up. All of the spare patties will stay good in the freezer for months.
With a variety of toppings, each person can have their burger customized.
Topping Possibilities:
Cheese slices. Mix up the flavor with provolone, pepper jack, swiss, or gouda.

Lettuce

Tomato Slices

Fried Egg (highly recommended)

Pickles

Jalapeños

Coleslaw

Guacamole

Avocado Slices

Bacon

Sautéed Mushrooms

Mustard

Ketchup

Mayo
Big Salads
Salads offer up endless possibilities right? Once you add some sort of protein, you've got a full meal.
Again, you do not need to buy a massive selection of foods. Just choosing a few options gives people the ability to make a meal that suits them.
Base Options:
Romaine Lettuce

Spinach

Iceberg Lettuce

Kale
Veggies:
Carrots

Peppers

Cucumber

Tomato

Green Beans
Protein:
Chicken

Tuna

Ham

Beans: Black beans, chickpeas, or navy beans are great

Nuts

Hard Boiled Eggs
Extras:
Croutons

Hummus

Dried Fruit

Fresh Fruit: Apples, pears, mandarin oranges, strawberries…

Cheese
And don't forget about dressings!
Quesadillas
Quesadillas can make a great meal when you add some extra protein and fiber. We love ours with shredded chicken and a layer of refried beans. Plus, there are some options for toppings as well.
You can have each person put together their quesadilla and then cook them all up on a griddle or in a large pan on the stove.
Add Variety:
Use flour or corn tortillas
Filling Options:
Shredded Cheese: Experiment with different kinds of cheese or combinations of cheeses for new flavors.

Cooked Shredded Chicken

Refried Beans

Black Beans

Corn

Taco Seasoning

Sautéed Mushrooms and Onions

Pepperoni
Serve With:
Salsa

Sour Cream

Guacamole

Lettuce

Marinara Sauce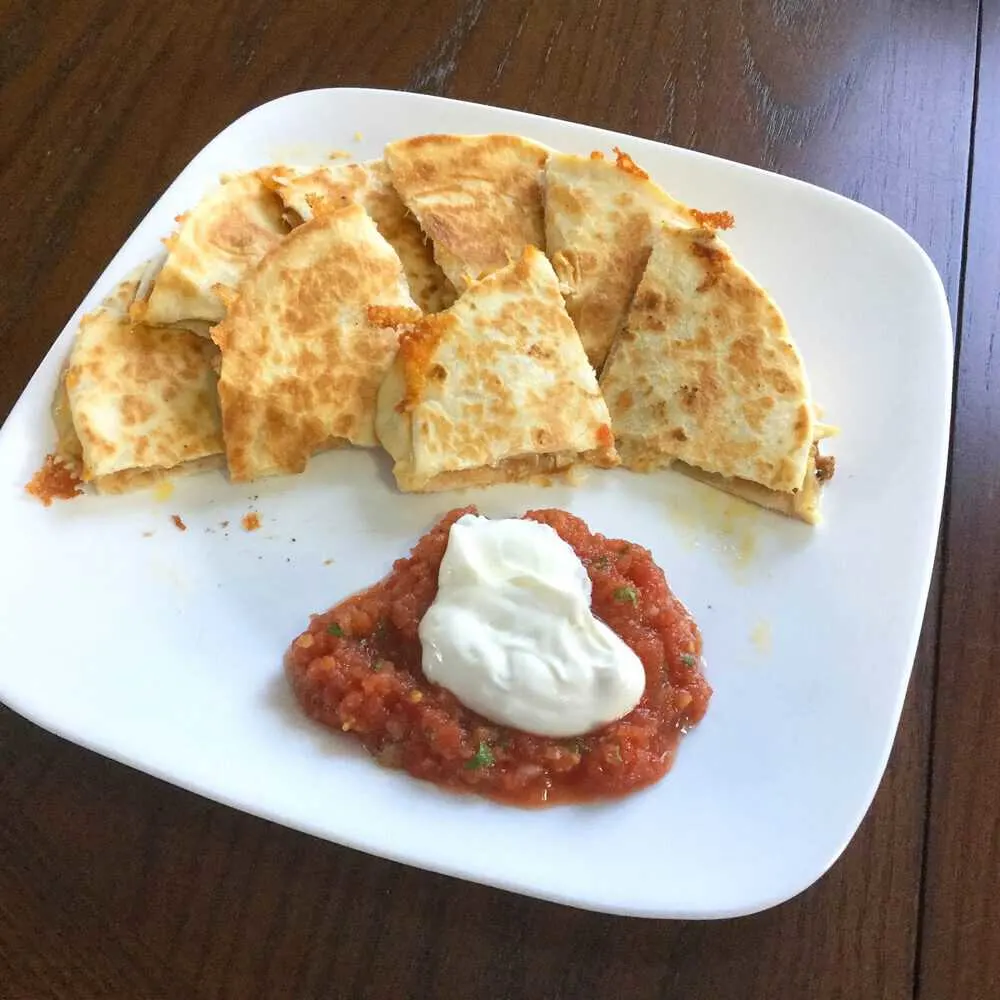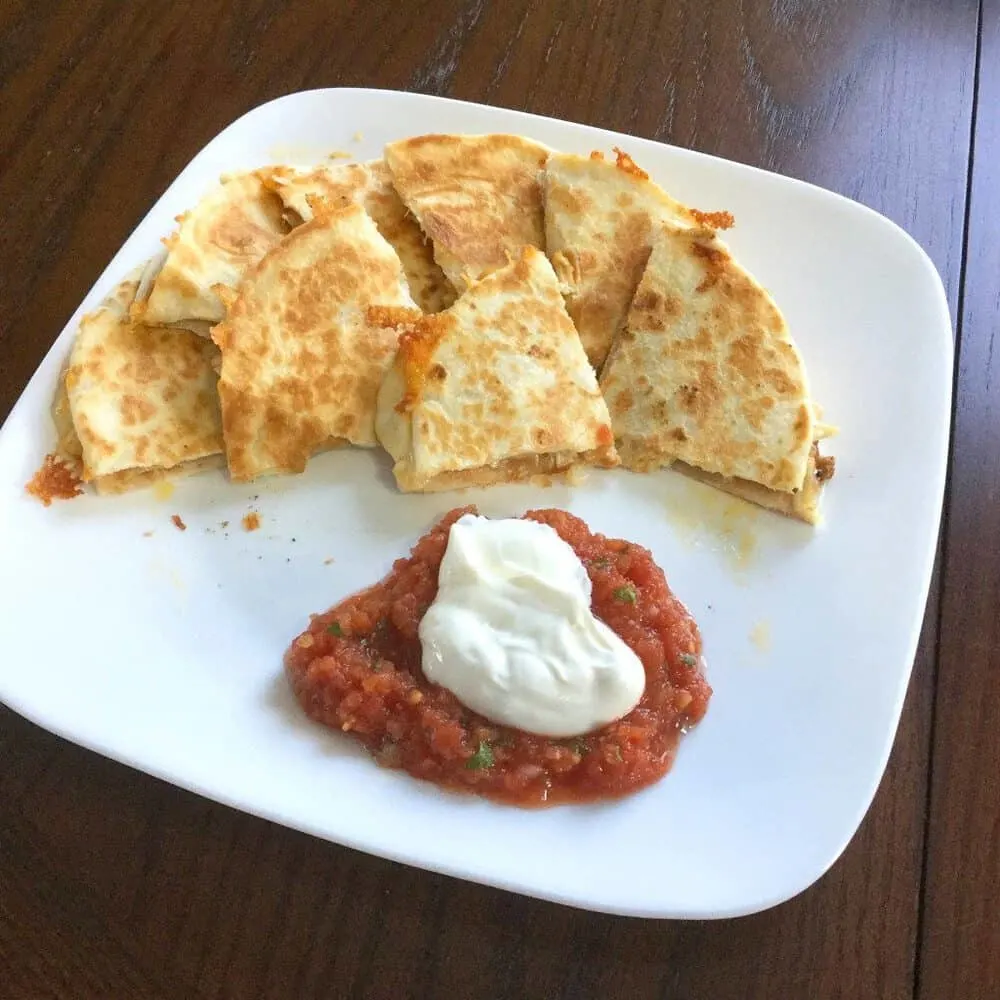 I hope these meals give you some ideas on how you can create options that will work for everyone all within the same meal.
We have used many of these ideas with great success when we've had friends or family over so that everyone can eat a meal that they like.
⇒ Do you think some of these easy dinner ideas would work for you?
Take a Look at These Related Posts: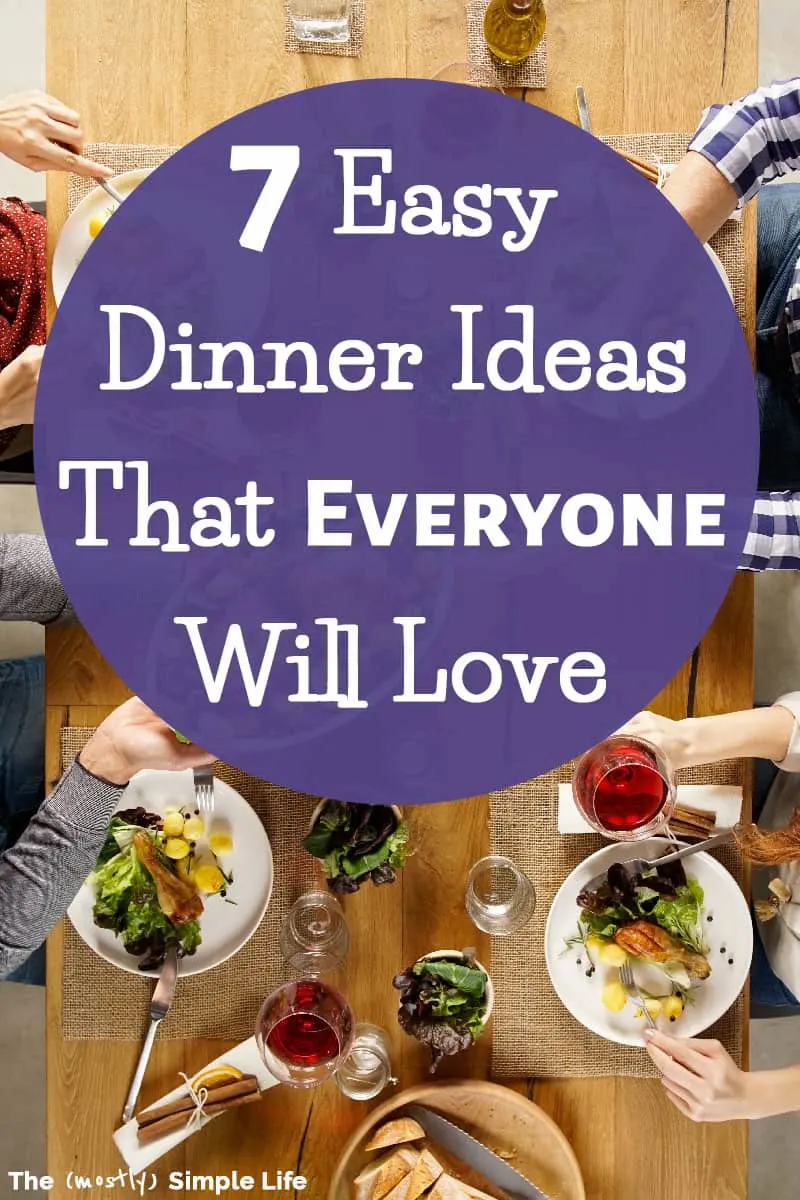 If you find this page helpful, please pin or share it :)