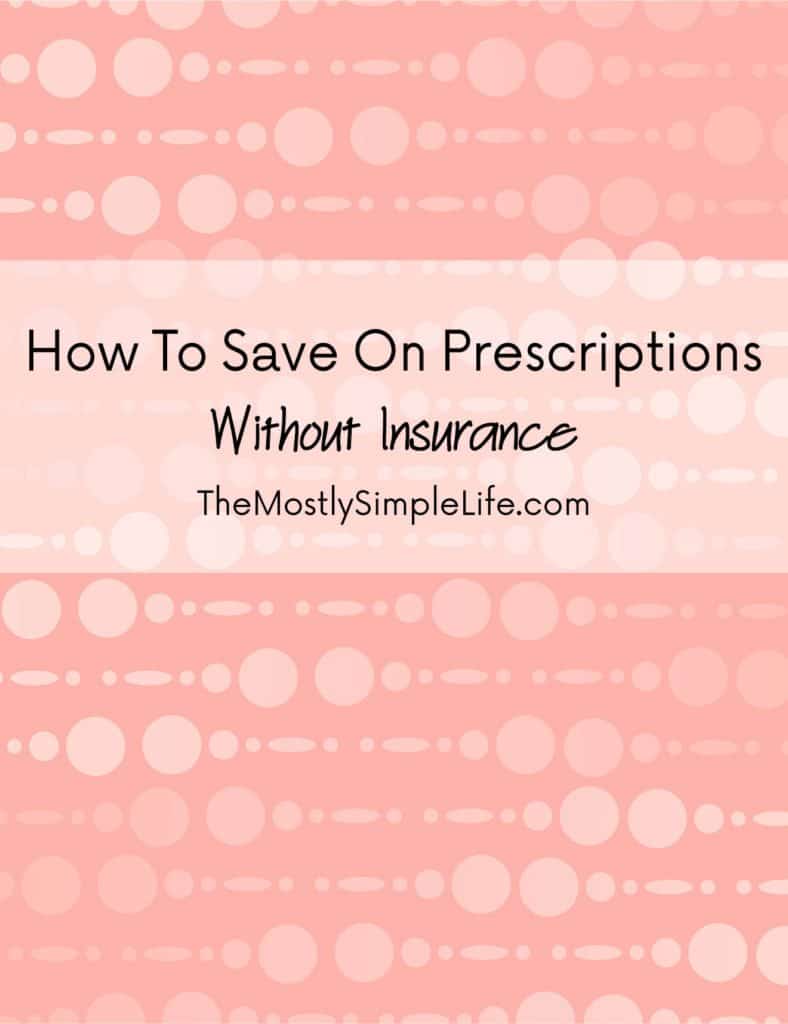 For most of the last few years, we've had to find creative ways to save on prescriptions. My fella takes a few prescriptions every day and they are not cheap!
For most of this time we either haven't had insurance that covers prescriptions or we've had such a high deductible that it doesn't really make a difference.
Here are a few things we've done to save on prescriptions:
Call Around For Prices
I had always heard this advice, but didn't think it could really make that much of a difference. Wrong.
When I was facing a massive bill to pay for prescriptions without insurance, I was pretty motivated to find a cheaper way.
For one prescription, I found prices that were $100/month, $230/month, and $90/3 months!
Guess which option we went with. And that cheaper price came from a local "mom & pop" pharmacy, not from a big chain pharmacy. I was pretty amazed.
Walmart has a list of common drugs that you can get for $4/month. Even if you have insurance, this price might be a lot cheaper than what you would pay at any other pharmacy.
We asked our doctor to help us out so that we could use the $4 list. My fella needed 40mg of a certain prescription. Well, the 20mg version was on the $4 list, but for 40mg you had to pay significantly more because it wasn't on the list. Our doctor prescribed a double dose of the 20mg pills so that we could get the cheaper price. It ended up being $8 a month and he had to take two pills a day instead of one, but we saved a lot of money.
Research Warehouse Stores
Most warehouse stores, like Sam's Club and Costco, offer their members a great price on prescription drugs.
We are currently filling my fella's prescriptions at Sam's Club. If you pay extra for a Plus membership, they have a list of over 400 common prescriptions that are $4-10 a month.
Even with factoring in the price of the Plus membership, we are paying less for his prescriptions at Sam's Club than we would anywhere else.
Because of the crazy-high deductible on our insurance, we just pay the Sam's Club price out-of-pocket instead of going through our insurance for the medicine.
⇒ What ways have you saved on prescriptions?
I'd love for you to follow me on Facebook, Pinterest, Instagram(if you like pictures of adorable dogs and food), and/or Twitter.
You can also Subscribe Via Email in the right-hand column to make sure you don't miss any posts.
This post is linked up to Frugal Friday and Financially Savvy Saturday.