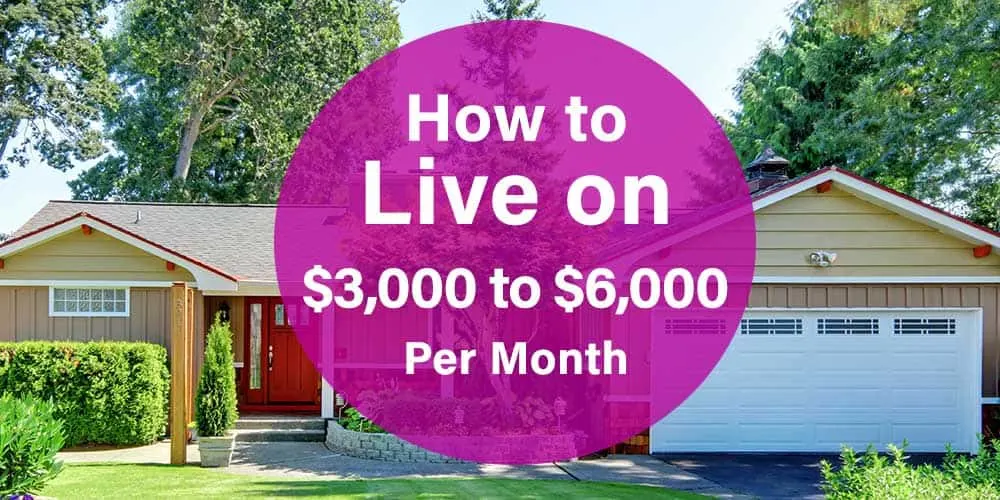 I don't know about you, but sometimes I crave a road map to figure out how much I should be spending to make our monthly budget work. Especially when I start digging into our specific bills, it's so nice to Google, "How much does that average family spend on cell phone bills" to figure out if I'm overspending.
Chances are, if you're reading this article, we could be friends—you like that kind of information too!
That's why I have outlined my monthly budget for living on $3,000-$6,000. As we have progressed in our careers, we have found that we bring in more monthly income than we did three years ago (Less than $3,000 between the two of us). After doing a little happy dance, we got down to business, figuring out how to budget that money every month to maximize how our money works for us.
I've also color-coded our budget, so you can see what I could cut out of our budget if we needed to find some extra money to cover a bill.
GREEN: highlight everything that is non-negotiable (meaning you have to pay it or else) in green.
ORANGE: Then highlight your nice-to-haves in yellow, and

RED

: Finally, highlight your "I could live without this if I had to" in red.
One thing: you might disagree with how I've prioritized our money… that's okay! It's not your money ;). Your budget will, of course, look different because you have different priorities. My budget is merely a jumping-off point for you to begin thinking about how to create your own budget!
Note about costs: We live in a suburb of a metropolitan area with a high cost of living. We're a family of three, a gigantic St. Bernard, and a kitten. Some of our expenses may look different than yours, and that's okay! If you're unsure of what to budget for a specific category, simply search "Average cost of (whatever you're looking for) in (Your state)."
Total = $3,870
Home Expenses
Here are our expenses that need no explanation. Many of these items' costs will vary on where you live, your home's size and age, etc.
Mortgage $1217
Utilities (sewer, trash, water, energy)

$200
Internet $60
Car Loan

$391
Home & Car Insurance

$185
Charitable Donations $10
If you value donating to specific charities, set an amount in your budget so that you can be a consistent benefactor!
Digital Subscriptions

$54.61
Our family loves all of the digital subscriptions, including Disney+, Netflix, and Spotify. But I'm not so sure about keeping them around. Did you know that the average American spends $650 per year on digital subscriptions? If we needed to save for something, this category would be one of the first to go since we don't need Disney+ to live (contrary to what my 5-year-old may think).
Notice, we don't have cable either, so we're not paying double fees!
Kid's 529s $50
We have determined that we want to help our child pay for college, so we set aside a small amount of money each month into a 529 account. We started it when our kid was born, so we have the full 18 years to contribute.
Pet Food

$65
Last month alone, we spent $400 on vet bills, new dog food, and a blood test for a sick dog. Pets are expensive (and they're even more costly when they're 200-pound St. Bernards #prayforus). I don't think we realized the financial commitment we made when we adopted our dog.
Daily Living Expenses
Groceries (Family of 3)

: $680
Are you unsure of how much money you should be budgeting each month for your food bill? The USDA has created a reference for you to find national averages. This is especially helpful when you are trying to decide if you're spending too much on food for your family's size.
Restaurants & take-out

: $180
We dine out or get take-out about once a week with an average order of around $40-50.
Transportation (Gas)

$180
(Somewhat down with the pandemic and lower gas costs last year)
Since my husband drives to work, we have to budget quite a bit of money for our transportation budget. Yours might look different if you take public transportation.
Kid's Treats & Playtime

$20
This is, in effect, my kid's allowance ($5/week). We use this money whenever they want a treat at the store, a new toy, or a Happy Meal. When the money is spent, they have to wait until next month for new goodies.
Real Expenses
Family Birthdays $20 (Down with the pandemic)
This money will be used to purchase gifts for my child and his friends (including any fancy dinner out). We organize our own birthday party at the park to keep costs down. And my husband is ok with a frugal gift for his birthday 😊
Accountant/Legal/Taxes $40
I like to keep $500 in our account to cover any expenses related to taxes, accounting, or legal issues.
Father's Day/Mother's Day/Anniversary $15
Toiletries

$40
These purchases include new makeup, shampoo, vitamins, hair tools, etc.
Car Registration

$100
This total gets adjusted each year to accommodate any changes in our car registration (since we haven't bought any new cars recently, our registration goes down each year)
Entertainment

$40
Auto Maintenance $100
This category funds oil changes, routine and unexpected maintenance, tolls, parking fees, and of course, speeding tickets (one of us has a lead foot!).
Home Essentials $50
This includes new filters, lightbulbs, laundry detergent, small appliances, décor, etc.
Home Maintenance

$180
This includes home repairs, gutter cleaning, etc.
Clothing $70
Hair Appointments $45
(Down with the pandemic)
What we have found that works for us is my husband so graciously trusts me to cut his hair. Now, I'm not a hairstylist and have had to watch approximately 1000 hours of YouTube videos, but now I can give him a modern fade with style! It's simple, but it saves us about $300-$500 per year. Now that my son is sitting still, he also lets me cut his hair, so we're saving even more!
Savings
Emergency Fund

$80
We set emergency fund goals, and our first goal was $1000. Once we hit $1000, we started working towards $3000.
Christmas $100
I always opt to save $100 per month for Christmas versus saving at the end of the year. It takes all of the stress out of saving for Christmas because I view it as a bill that needs to be paid each month. When I start in January, by December, I have $1200 ready for the holiday season!
Total = $3,870
Future Goals
Living on $3,000-$6,000 per month definitely takes a lot of the financial pressure off of our family. It's hard to believe that we were living off of $2,500 to $3,000 per month when we first got married and felt like a king and queen! Now that we make more money, we have to make more intentional decisions to ensure that our money is being used effectively. That being said, we have future goals that we would like to start working towards too. Here are a couple of ideas to help you plan for your future goals:
Save deductibles (health, auto, and home): Are you prepared for a disaster? If you have this money saved, you will be able to pay off the deductibles immediately, so you can focus your attention on the emergency at hand.
Children's Ortho: My child will need braces, and so I'd like to have that money saved when we need it.
A new computer/furniture/tech: These items tend to be high-cost, so we'd like to start saving for them sooner rather than later.
Investing: We'd like to start investing more money into investment accounts.
What are some of your must-haves on your budget of $3,000-$6,000 per month? Let us know in the comments below!
If you find this page helpful, please pin or share it :)