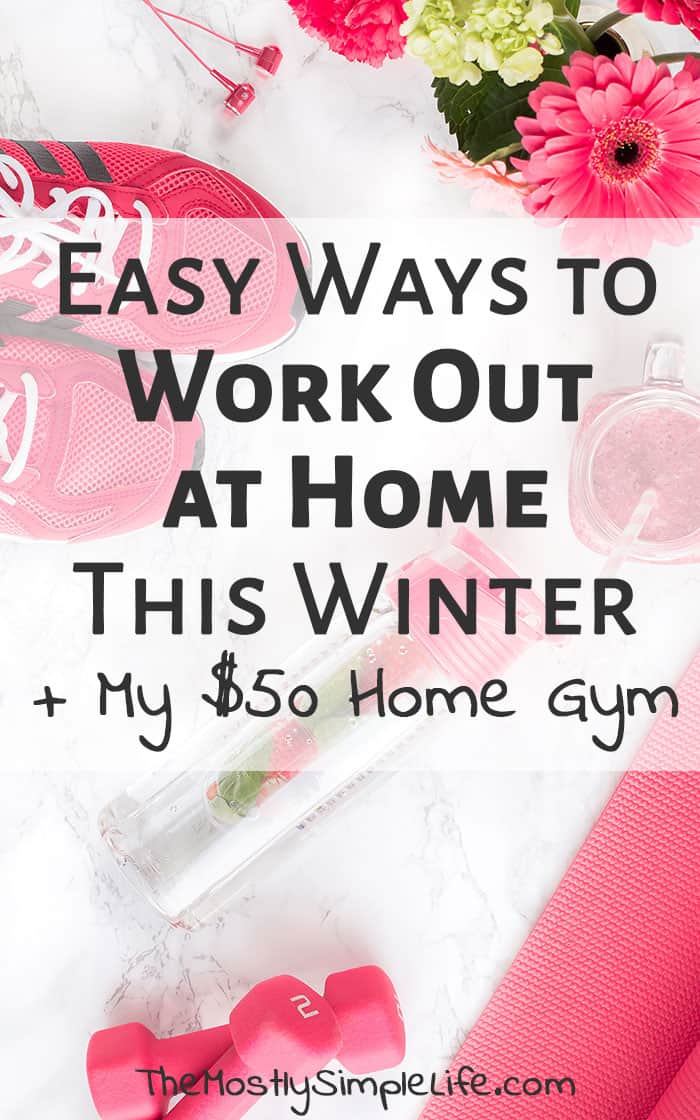 It's cold! I've lived in West Michigan for pretty much my whole life, but I would prefer to hibernate all winter instead of going out in the sub-zero temperatures.
Even at home, all I want to do is wear sweats and bundle up in blankets to watch a movie. It can be so hard to get moving when it's cold and you feel like you haven't seen the sun in weeks.
I'm not super fit or athletic and I could probably stand to lose a few pounds, but I am doing my best to get moving and get some exercise. Even in the winter.
Years ago, I had a gym membership and I enjoyed going a few times a week. I have to admit, though, it was expensive and it was hard to get out of the house as often as I would like.
Here's the thing: Some of the best workouts I've had have been at home, not at the gym.
So here are some easy ways to work out at home in the winter.
Easy Ways to Work Out at Home This Winter
Create a Routine that Works for You
I'm all about creating healthy routines! If I don't make something a part of my daily routine, it usually doesn't get done. When I incorporate exercise into my daily routine, I usually do it wether I feel like it or not simply because it's a habit.
There are all kinds of advice out there about the best times to work out. It can feel like unless you get up at 5am to workout, it's hardly worth it, but it just isn't going to happen!
I'm not much of a morning person and I'm certainly not going to wake up earlier to exercise. It doesn't work for me.
It's important to set a workout time that works for you. Knowing your natural tendencies and your schedule will help you figure out your routine.
I work out at around 8pm. I'm alert. I've gotten done what I need to for the day. I can get some exercise in, take a shower, and get to bed at a good time. It works for me.
Turn on the Lights
It gets dark so early in the winter. This might just be me, but dim lighting makes me sleepy and unmotivated.
If I want to work out, I'll turn on a bunch of lights! The brightness wakes me up a little and makes me feel ready to do something.
Get Moving
Here we go! These are some of the easiest ways to get moving and exercise in the winter:
5-Song Dance Party: Pull up your favorite playlist or just look up YouTube videos and dance through 5 whole songs. It might not sounds like much, but that's about 20 minutes of cardio! It doesn't matter if you're not a good dancer. Just jump around, shimmy, and shake. This is an awesome way to get your whole family moving too.
Walk: I love walking. I still walk as much as I can in the winter. There are days that it's too icy or cold, but I try to get out as many days as I can. Walking for 20-30 minutes a day is one of the healthiest things you can do.
Cardio: If you have indoor exercise equipment, use it! Treadmills and exercise bikes can be affordable and you might even be able to get a great deal on Craigslist. We have an exercise bike in our living room and we use it daily. It's completely silent, so we watch shows while we ride. The one we have also folds up if we need to move it or store it which is handy.
Video Games: If you or your kids already have a video game console, look into getting some games that get you moving. We love the Just Dance games. They can be a great workout and a hilarious family activity. There is also the Wii Fit game. I haven't tried the newer versions of this game, but it has great reviews on Amazon.
Workout Videos: I have a small collection of workout videos that I use to mix things up. I have a cardio dance video (super fun), a ballet video (much more difficult that you would expect), and a tae bo video that I have yet to make it through more than 10 minutes of. I also have an awesome pilates video that has multiple 10-minute sessions. Workout videos can give you a great workout and are inexpensive. There are even workout videos you can find on streaming services like Netflix or Amazon Prime.
Bodyweight Strength Exercises: I saved the best for last! Simple strength-building exercises are so good for you. They get your heart pumping and build lean muscle. I find great routines and moves on Pinterest and some of the best workouts I've had have been 15-20 minutes of intense strength-building exercises.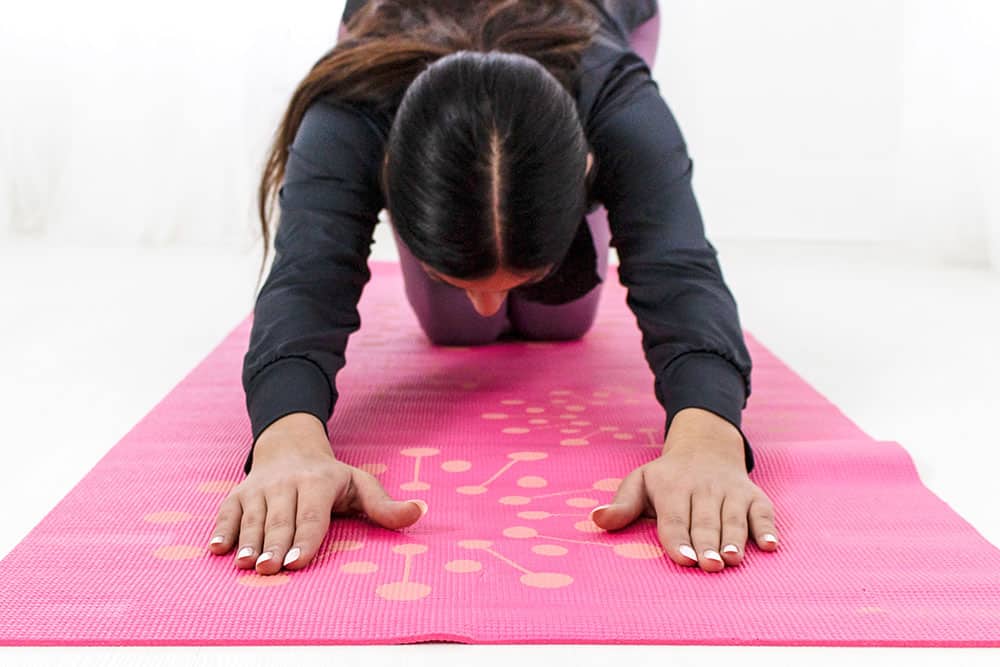 Simple Bodyweight Exercise Routine
For my simple routine, I set a timer for 5 minutes. I do three 5-minute sections with a minute to catch my breath and get a drink in between each.
After you start your timer, do as many reps of the moves in each section as you can. The main goal is to keep moving. I rotate through the exercises in each section multiple times.
1st 5-Minute Section:
Jumping Jacks
Lunges
Squats
High Knees
2nd 5-Minute Section:
Plank
Bridge
Russian Twist
Push Ups
Bicycle Crunches
3rd 5-Minute Section:
Arm exercises with small dumbbells
Arm Circles
At this point, I'm usually just trying to keep moving. I'll dance around or repeat a few moves from previous sections. 15 minutes doesn't sounds like that big of a workout, but if you are doing as many reps as you can with high intensity, you might be surprised!
The $50 Home Gym
Gym memberships are expensive. We used to live in a small town that had a very nice gym. I had a membership for a while, but it was hard to justify the cost. My gym membership was $50 per month (thought I did get a small discount).
For one month's worth of a gym membership ($50), you could create a decent little home gym, and that's exactly what I did.
When I cancelled my membership, I decided to take what I would have spent on the next month's fee and get a few things that would let me work out at home for a long time.
Here's what my $50 home gym looks like:
3lb Dumbbells ($10-15)
Multiple reps with some low-weight dumbbells can improve your strength considerably.
Yoga Mat ($15-20)
I use my yoga mat for a few of my exercise videos as well as to have a good place to lay on the floor for strength exercises. Ironically, I've never done yoga.

Workout Videos ($10 each)
A lot of exercises can be done on your own, but it's great to have a few videos to get you going or to give you some variety.
I like videos that have multiple different session all on one disk so that I don't get bored with the same workout over and over again.
I love the "10 Minute Solutions" videos. Each video has a few short workouts that you can do individually or you can string them together in a set for a longer workout. Who can't fit in a 10-minute workout?

If you've got the cash…
Ok, this is most definitely an extra and it's not cheap, but if you have the extra cash, I highly recommend getting an exercise bike. We've had ours for three years now. At first, I was worried that we wouldn't use it and it would gather dust, but we use it daily.
Here's what makes us use it more:
It's a recumbent bike, so it's very comfortable to sit on.
It's completely silent, so we can ride it any time without bothering anyone and we can watch TV while we ride.
It's small, so it's not in the way.
It's in our living room, so we're more likely to use it. We often take turns riding it at night while we watch TV or a movie.
Related Posts:
8 Tips for Living a More Active Lifestyle
How to Create a Workout Routine that Works for You
The Easiest Way to Eat Healthy on a Budget
How to Enjoy Exercise – Even If You're Not Sporty
⇒ What do you do to work out in the winter? Do you have a hard time getting motivated?
[convertkit form=4908806]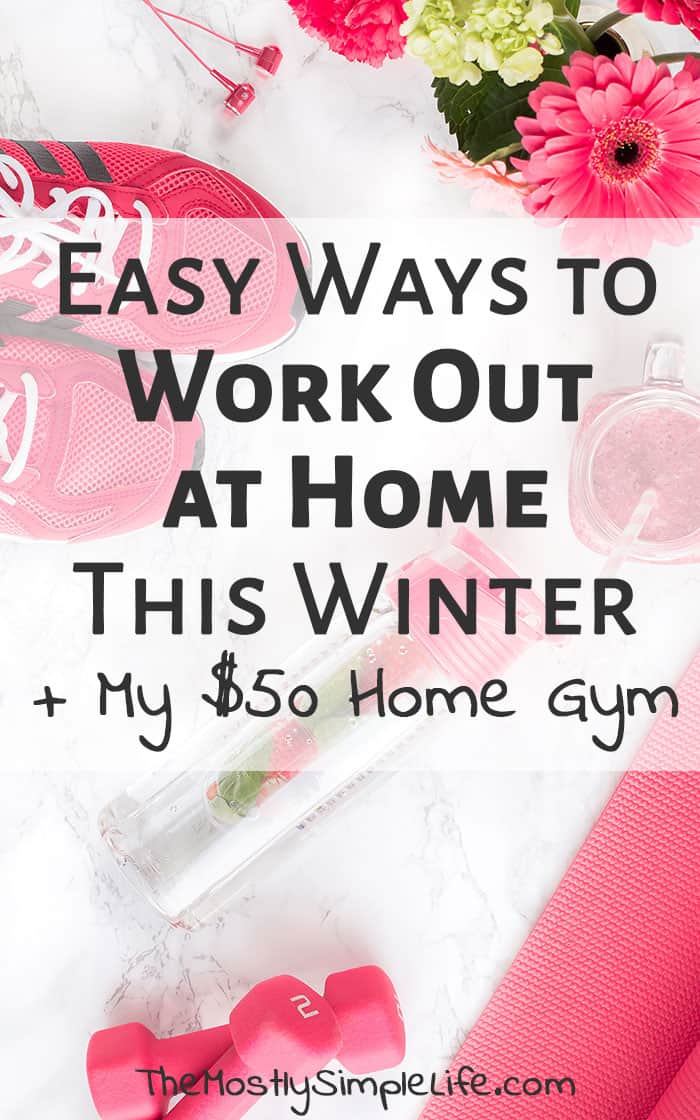 If you find this page helpful, please pin or share it :)