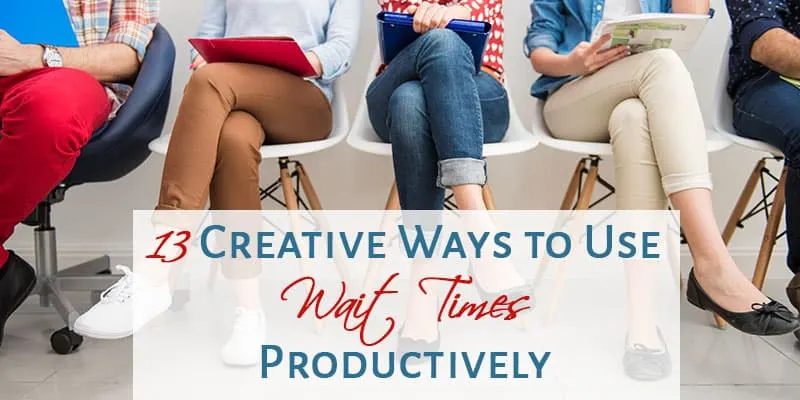 Waiting is so obnoxious y'all. It just feels like wasted time.
Waiting in lines, at the doctor's office, in the car to pick someone up… We spend a lot of time waiting.
Most of the time I just scroll through social media on my phone, which make sense. Usually when I'm waiting, I don't have much stuff with me and I don't want to do anything time consuming because I might not have to wait long.
There are some slightly more productive ways to use wait times though.
These definitely don't all work in all waiting situations. It depends on where you are and how long you might be waiting but I think you'll find some that will work so that you can get things done while you wait.
I was stuck on hold for for.ev.er. last week and I used a few of these ideas!
13 Creative Ways to Use Wait Times Productively
1. Review your to do list
Take a few minutes to look over your to do list. Check off what you've already accomplished and plan what you're going to work on next. I always get more done when I have a plan for what to do next.
2. Do a portable craft
If you do something crafty or never feel like you have the time to do something crafty, make it into a wait time activity. Last December when Austin was in the hospital, my mom brought her knitting. Other options: cross stitching, coloring, crocheting…
3. Listen to a helpful podcast
I have been getting into some great podcasts! They're easy to start and stop if you're likely to get interrupted or won't have a long wait. Plus, you can listen on your phone which I bet you'll have with you. I'm liking Gretchen Rubin's podcast called Happier with Gretchen Rubin if you need one to try.
4. Clean out the trash in your purse or car
Since I'm working on keeping our car cleaner, I take advantage of sitting in the car for a short wait by gathering any trash around me. Then I can easy toss it when we get home. Or if Austin is pumping gas, I'll grab all the trash I can and throw it away at the gas station. Don't forget to check your purse for trash too!
5. Update your budget
In a few minutes you can easily review your budget or record some receipts. I've been using an app on my phone to record our spending lately, so I'll grab any receipts from my wallet and enter them in the app while I wait.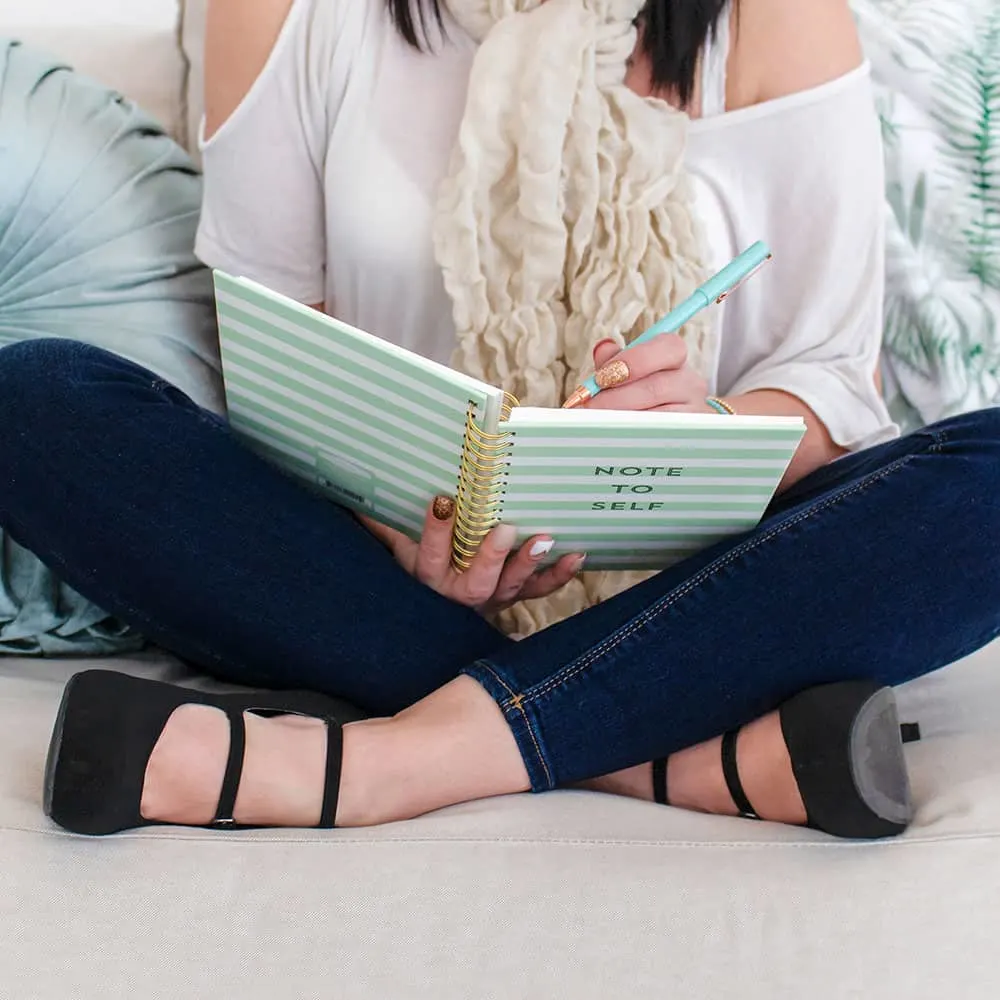 6. Create grocery list
Can you think of any grocery items you need? Start your next grocery list while you wait. I've been using a list app called Listonic lately.
7. Check sale ads on your phone
Most stores have their sale ads in an app these days, so you can easily look through the sales on your phone.
8. Send a sweet text to your spouse
This is so easy and often overlooked. Send your spouse a nice message or even a funny picture since you have a minute to spare.
9. Delete bad photos
If you've got your phone with you, go through the pictures on your phone and delete the bad ones. Everyone I know has plenty of photos stored on their phones and most of them aren't keepers. Your photo storage might even be full. Just keep the goods ones and free up some space.
10. Read a fun book
Most people wish they had more time to read. Take advantage of wait time and use it to read a book that's been on your reading list forever. It will make you enjoy wait times much more if you use them for something special!
11. Listen to an audiobook
I am an audiobook addict. Audiobooks are perfect for wait times because they entertain you and can quickly be paused. If you're waiting at a doctor's office or somewhere out in public, keep some headphones with you. Audible has a ton of audiobooks to choose from and there's a free trial. I've recently listened to Eat That Frog and The Happiness Project — both super good!
12. Declutter the Area Around You
I did this the other day! I was stuck "on hold" on a tech support chat so I couldn't leave my computer. I was in the kitchen, so I went through all of our kitchen cupboards and did a little decluttering while still in view of my laptop. If you're out somewhere, do a mini decluttering of your purse while you wait.
13. Make a Phone Call
If making a phone call is on your to do list, this can easily be accomplished while you wait in your car to pick your kids up.
I've been making better use of my wait times lately. I add a few items to my grocery list, make sure I've recorded my latest receipts in my budget tracker or clear the trash that inevitably builds up in our car.
I always find time for scrolling mindlessly through social media (still working on doing that less) and it's nice to get a few little things done during waiting periods. I find waiting a little less annoying when I can get something accomplished while I wait.
Check Out These Related Posts:
How to Achieve Big Goals When You're Too Busy
34 Great Goals to Set to Change Your Life
How to Simplify Your Schedule in 4 Steps
⇒ Ok, let's get some more ideas! What else do you do during wait times?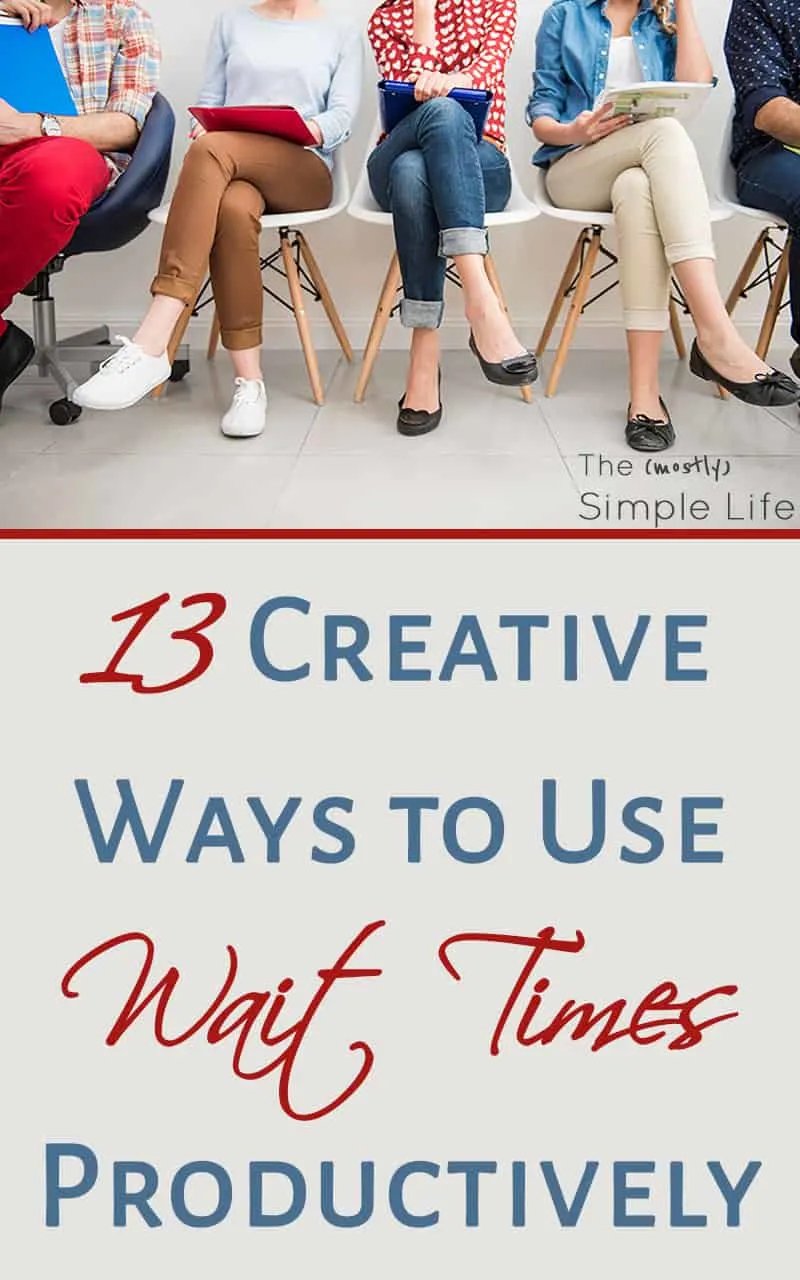 If you find this page helpful, please pin or share it :)