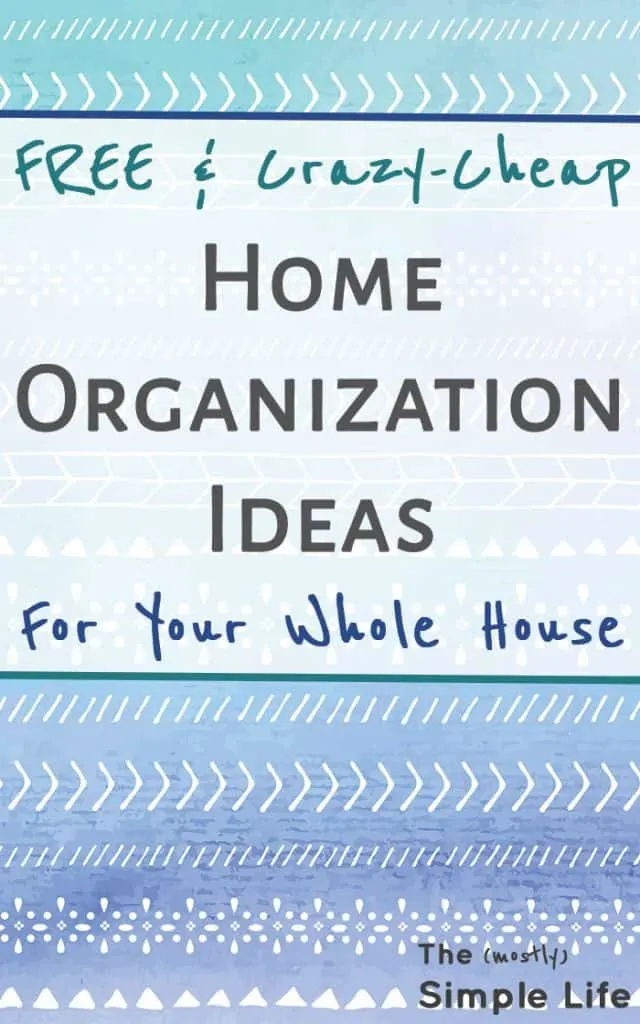 A huge myth in the world of organization is that you have to spend lots of money on baskets, trays, crates, and other organizational paraphernalia. Not true!
I can absolutely appreciate photos of gorgeously organized and decorated spaces but for me, organization is more about function than beauty. No one is ever going to take glamour shots of my bathroom cabinet! As long as I can find what I need, when I need it, I consider the organizing a success.
I have spent very little on organization products over the years. Most of what I use has been free, thrifted, or bought at the dollar store!
While the following pictures will never be in a magazine, I hope they give you some inspiration of how to get organized even if you don't have much (or any) money to spend.
Free and Crazy-Cheap Home Organization Ideas
Organize for Free
You can organize with things you already have around the house, including things that usually end up in the trash.
Here's what I use often:
Glass jars: Washed out pickle and sauce jars
Spare coffee mugs, tea cups, or bowls
Boxes: I use box lids or small boxes with the flaps cut off
Dollar Store Organizers
The dollar store has a bunch or organization products. Dollar Tree is my favorite dollar store because everything is actually a dollar, unlike other fake dollar stores.
Here's what I pick up at the dollar store:
Mini crates
Trays of all sizes
Kitchen
I just organized this giant kitchen drawer this week with $3 worth or dollar store trays. I had my eye on a different kind of organizer but it was super expensive. Now that I went with the cheaper alternative, I think it turned out even better than the expensive option would have.
I have some even smaller trays in other kitchen drawers to corral measuring spoons, clothespins, and food coloring.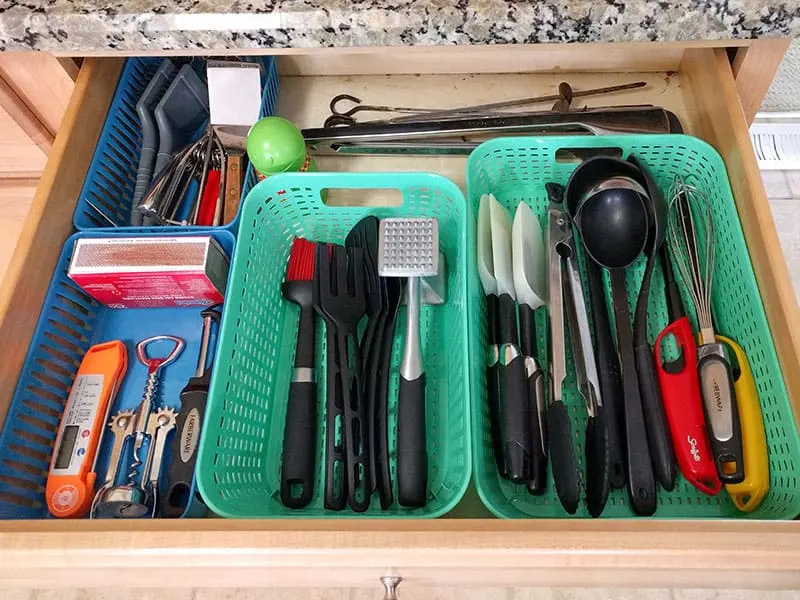 Bathroom
I use cleaned out glass pickle jars in our bathroom to hold q-tips and hair clips. Yay, for free organization!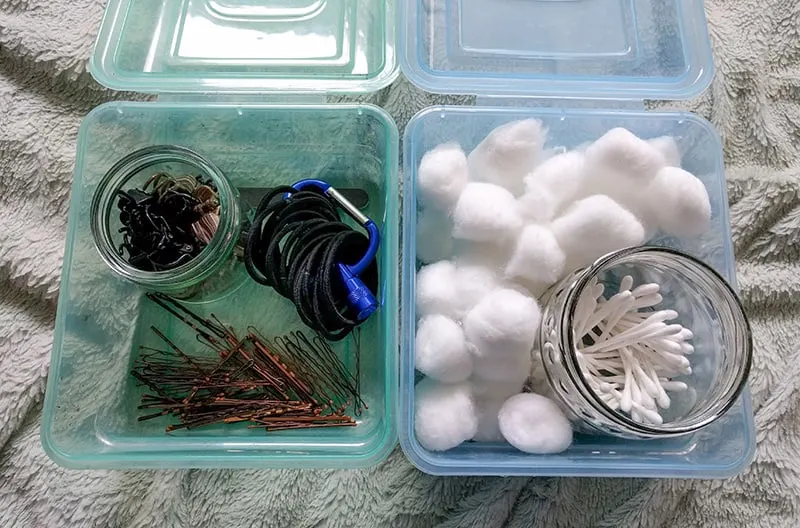 I have a bunch on mini crates from the dollar store that I mostly use for bathroom stuff. The two in the picture below are for first aid supplies and cold medicine.
You can see that I've got a cleaned out glass jar and sour cream container inside the crates to hold small cream tubes and other little things.
The black plastic container to the right holds our essential oils. It's just a washed out food container that would have ended up in the recycling.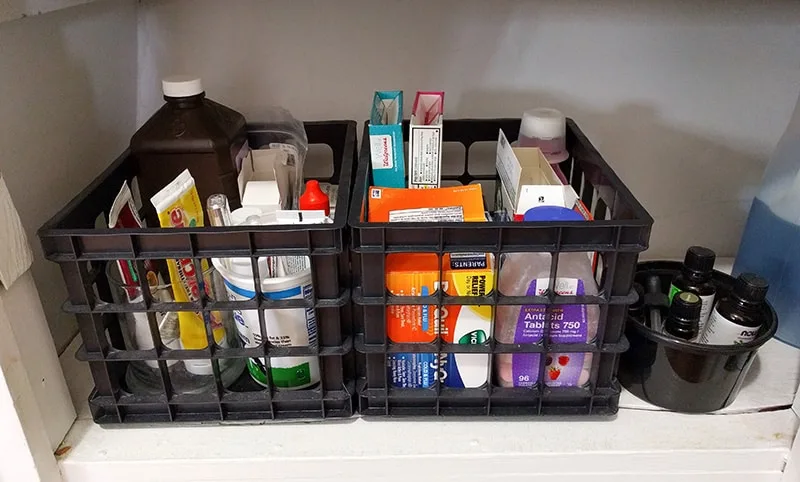 Office/Craft Supplies
The two picture below show our office and craft supplies. Most of them are stored in boxes or box lids. It doesn't get much better than free!
I've got a glass sauce jar holding rubber bands and a mini dollar store tray for tiny supplies.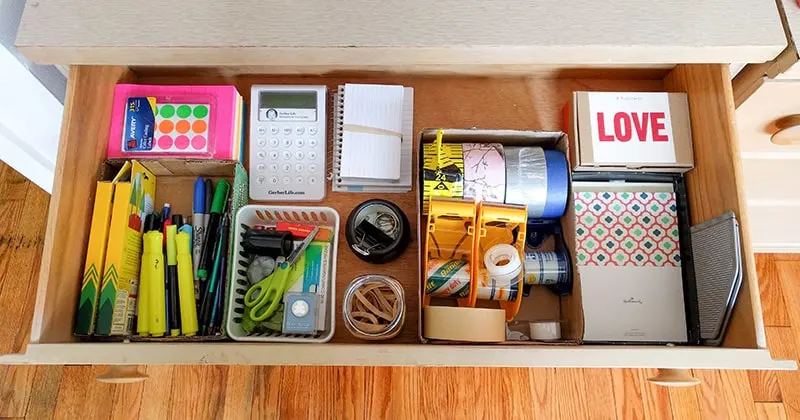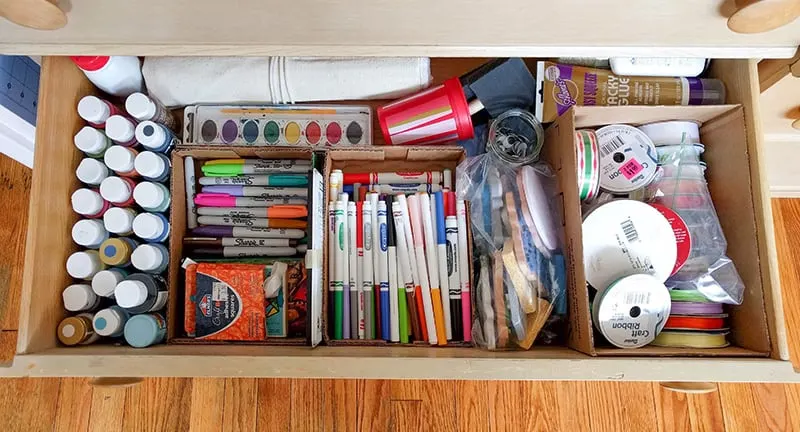 Spare mugs, tea cups, and bowls are helpful too. If you don't have any extras, you can always pick up pieces at a thrift store.
I use a mug to hold pens and pencils on my desk.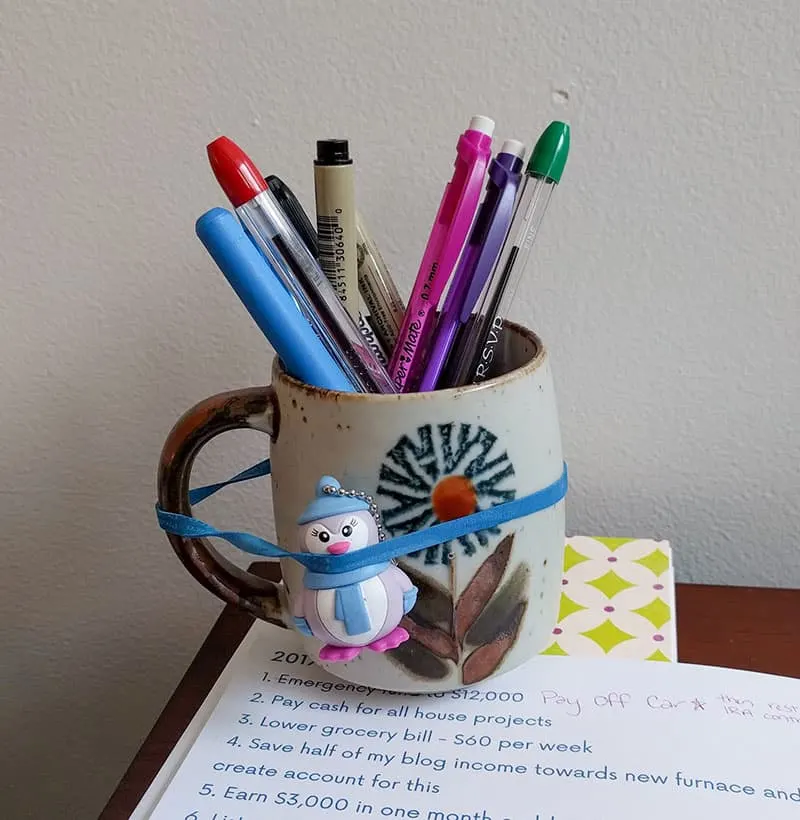 Bedroom
Below is a pic of my nightstand drawer. I use a teacup to hold hair ties and chapstick. Another little dollar store tray holds my vitamins and inhaler.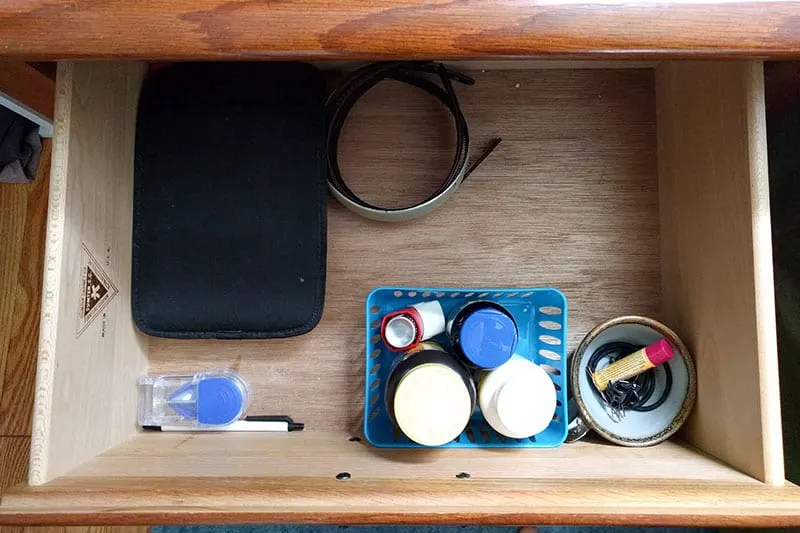 I hope I have you convinced that you don't have to spend a lot of money to have an organized home. By utilizing what you have and possibly making a trip to the dollar store, you can organize some of the biggest problem areas in your home.
Related Posts:
How to Create a Year-Round Decluttering Routine
How to Keep Your Paperwork Organized
Decluttering: How to Get Your Spouse On Board
⇒ What cheap or free organizers do you use?
If you find this page helpful, please pin or share it :)