Have you hit a point where you just don't know what to make for dinner anymore? I get it…I've been there too. We all get stuck in that meal-time-rut where it feels like we're making the same things over and over again.
To break the cycle, I've found these 8 cheap, easy, and yes, very delicious meals you can whip up for dinner. Because I know what it's like to look for recipes and then find impossible or expensive ingredients. These are all made with simple and everyday ingredients yet will impress your taste buds with full-on flavor!
1. Teriyaki Chicken Thighs
How about coming home to something with takeout appeal that cooks while you're gone? I love things in the slow cooker because it's great to have dinner waiting when you get home. Boneless, skinless chicken thighs are often quite cheap, and to make the sauce, you use a lot of easy pantry staples. It's a dish that comes out delish every time! Mix a bit of sugar, soy sauce, vinegar, garlic; pour over chicken. Slow cook on low 4-5 hours or until chicken is tender. From Taste of Home.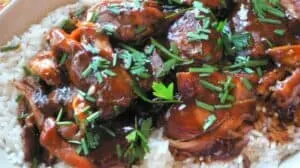 2. Penne Aglio e Olio
Spaghetti AGAIN? Oh no, I beg you to try something else. Forget trying to pronounce it. All that matters is cooking this divine budget-friendly pasta creation. From Honey and Birch, the name basically means "garlic and oil." Just 7 ingredients and in 25 minutes, dinner is on the table. Feel free to add chicken or seafood to it, or keep it meatless. Heat the olive oil in a large skillet over medium heat. Add the garlic and sauté for 2 minutes. Stir frequently and when the garlic's edges begin to brown, add the crushed red pepper. Then add the cooked pasta to the pot. Toss carefully, then stir in the salt and parsley.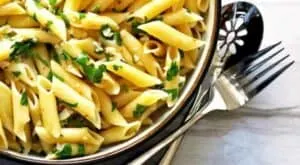 3. Cheesy Chicken Enchiladas Verde
When my family got tired of taco night (how dare they!), I found this recipe from Campbell's for cheesy chicken enchiladas verde. Literally just 5 ingredients is all it takes to whip this up. You get that Mexican flavor with very little effort. Mix 1/4 cup salsa, chicken, sour cream and 1/2 cup cheese. Roll up tortillas around the filling and bake for 15 minutes. Yum!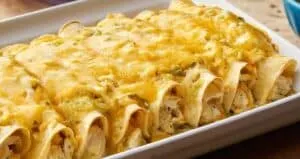 4. 3-Ingredient Grilled Tofu or Chicken
Whether you have a big outdoor grill or one of those smokeless ones you can use indoors, don't miss this 3-ingredient grilled chicken. Pinch of Yum has all the recipe details, but it basically takes only a few ingredients and your dinner is done. You can probably make it on the stove or in the oven if your grill is nonexistent or covered in snow too. Mix soy sauce, honey, water, and garlic with chicken and let marinate for at least 4-5 hours. Place the chicken on the hot grill and cook for 3-4 minutes.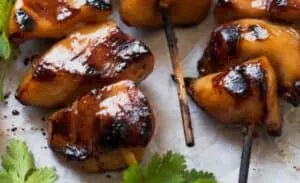 5. Roasted Sausage, Broccoli, and Fennel
Want something that looks elegant but costs pennies on the dollar? This is what I make when I want something a little elevated. It tastes so good, no one suspects this is a budget-friendly meal either. I think it's the lemon zest that really does it. From FOOD 52, this recipe is fast and fabulous. We love it with crusty French bread. Combine broccoli florets, sausage and sliced fennel. Add a quick mix of olive oil, whole-grain mustard, lemon juice/zest, and roast for 20 minutes.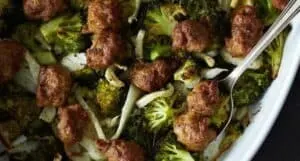 6. White Chicken Chili
In my house, I made lots of chili. It was always requested but then everyone grew tired of it. Instead of cheers, I heard groans. Chili is such a staple for cold weather, plus it's quick and easy. So too is this white chicken chili recipe from Gimme Some Oven. The recipe has just 5 ingredients and you'll be done in a grand total of 15 minutes! Stir together chicken stock, shredded chicken, beans, salsa and cumin in large stockpot.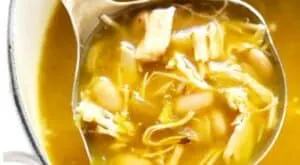 7. Sweet and Sour Meatballs
I know I get tired of having meatballs with marinara sauce, even though it's a classic. There's so much more you can do with meatballs though that it's really a crime not to explore the possibilities further. Case in point, these sweet and sour meatballs from Allrecipes. The addictive sauce is made from ketchup, apple cider vinegar, brown sugar, and soy sauce. Combine meat, egg, onion, bread crumbs, salt and pepper. Roll into meatballs about 1 to 1 1/2 inches in size. Mix together the water, vinegar, ketchup, cornstarch, sugar and soy sauce, and pour sauce over the meatballs.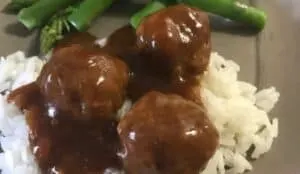 8. Chicken Pot Pie Rice Bake
Sometimes, we need comfort food to soothe the soul. Chicken pot pie is a great idea, but it's so time-consuming. That's where this rice bake comes in that evokes all the flavors of chicken pot pie without any of the hassle. Plus, it's ready in 30 minutes. You can thank Plain Chicken for this recipe! Stir together chicken, soup, sour cream, cheese, vegetables, 1/4 cup milk, and cooked rice. Bake uncovered for 25 minutes.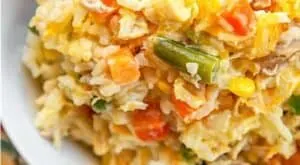 Now that you have new inspiration for cheap, easy, and delicious meals, it's time to pull out that apron and get in the kitchen. Fortunately, you won't be slaving away for long before you get to taste the fruits of your labor. I think you're really going to enjoy these tasty meals, and they'll keep you from going in the red on your grocery budget too!
If you find this page helpful, please pin or share it :)