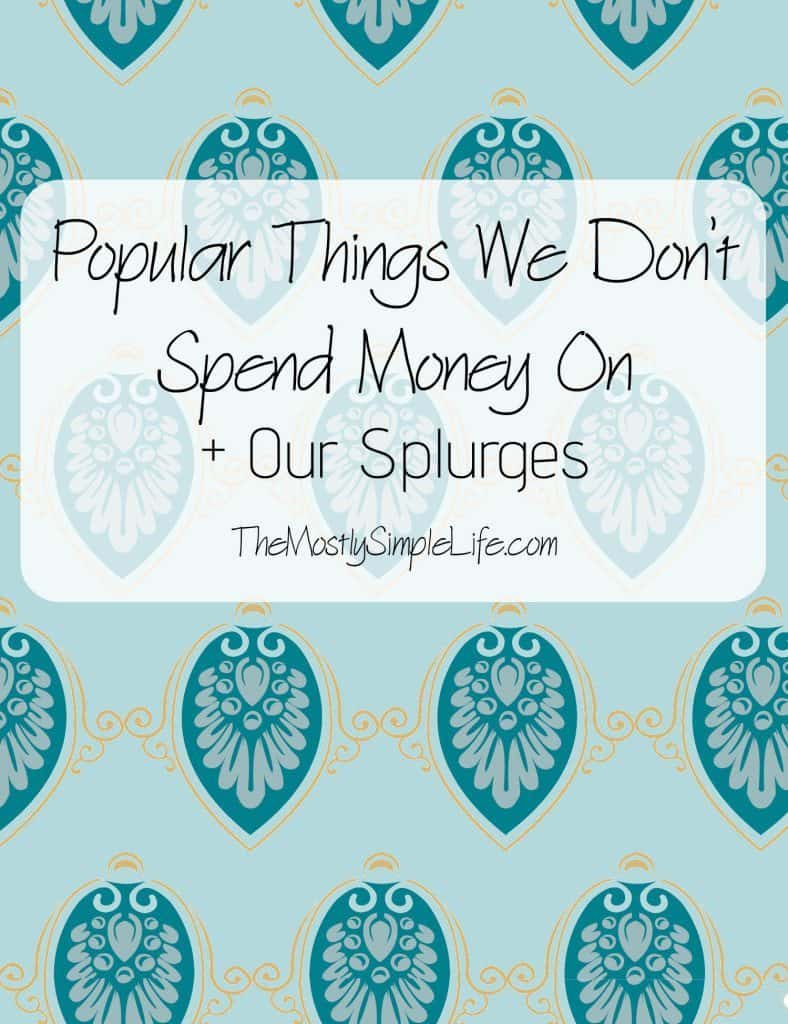 Isn't it so interesting to see what people spend their money on?
One of my favorite places to shop is Sam's Club.
First, they have the little restaurant area where you can get a giant piece of pizza and a drink for, like, $2. You really can't beat that kind of a deal.
Plus, you get to sit and eat while watching all of the other customers check out. It is completely fascinating to see what other people buy in bulk. One time I saw someone with a cart overflowing with different kinds of breads and rolls. Nothing else. Just bread and rolls.
Anyways, it's also interesting to see what people spend their money on, or don't, because something that I save money on by not purchasing might be a "must have" for you. Fascinating stuff guys. So here you have it:
Popular Things We Don't Spend Money On + Our Splurges
We Don't Spend Money On:
Men's Haircuts
When we first got married, there was no money to pay for haircuts. To cut my fella's hair, we usually borrowed some clippers from my parents and basically buzzed his head every few months. One year, my parents bought us our own set of clippers (really similar to this one).
Over the past few years I've gotten a little fancier with his haircuts. I can trim the sides with the buzzer and cut the top with scissors to keep it longer. I'm actually getting pretty good. He even gets compliments on his hair.
It's really not that hard after you watch a few YouTube videos to figure out what to do. Plus it saves lots of money!
New Books
We buy books quite often, but hardly ever do we buy them new. My fella has been in school for the past year and we've saved a lot of money buying his school books used on Amazon.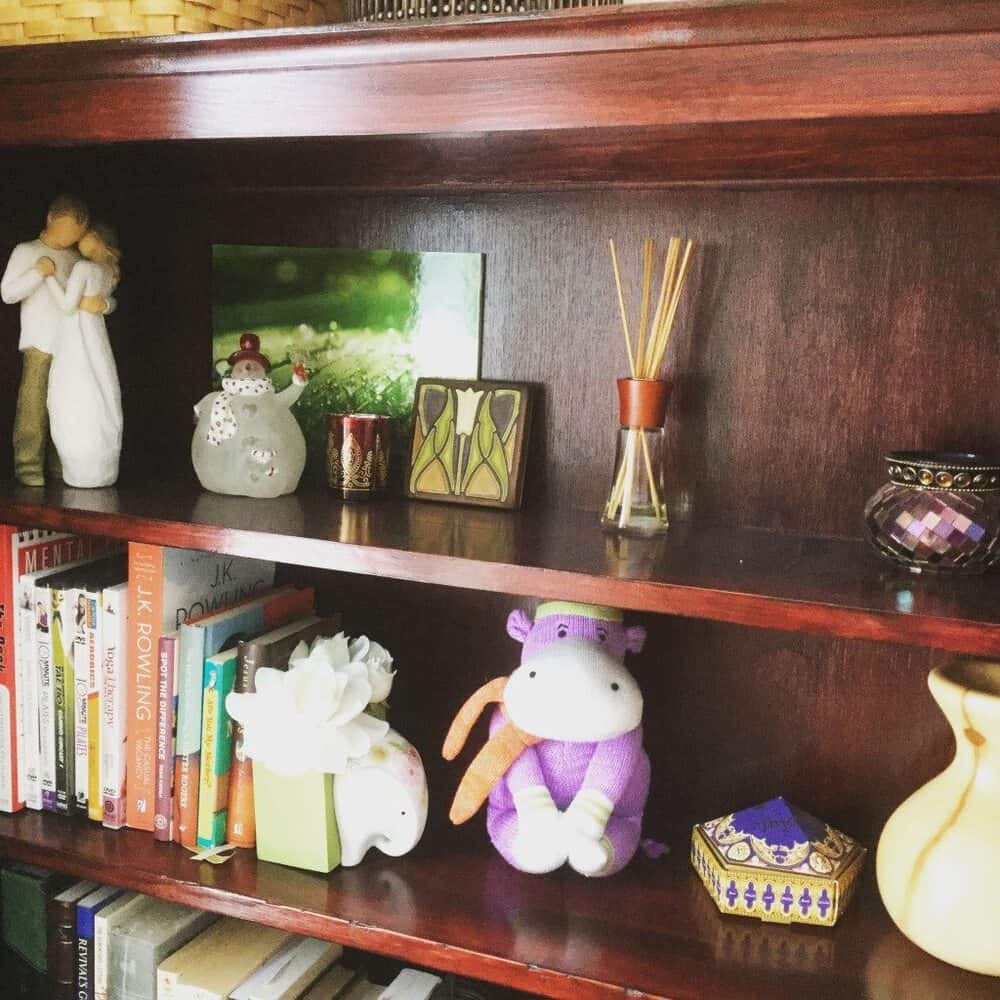 There's a really awesome used bookstore one town over from us that we visit every few months to buy books for fun. They have a great selection and the books are only a couple of bucks each. We've bought a lot of like-new kids books there for nieces and nephews too.
Car Payments
We don't have a car payment and it is amazing! We've always tried to pay cash for vehicles.
The only time we've owed money on a car was when we purchased my parents' old vehicle. We sold our old car to purchase theirs and still owed them the difference, which we payed back to them as soon as we could.
Not owing anyone money except for our mortgage takes a lot of stress off of us and opens up more options for us. We plan to always continue without a car payment.
Magazines
We don't pay for magazine subscriptions.
On occasion, we have been able to get a subscription to a magazine that we like for free.
We recently found out that our library offers access to an app that you can use to look at tons of different magazines digitally. So, if you're a magazine lover you might want to see if your library offers a similar program. You can enjoy the magazines without the clutter and extra trash.
Smart Phones + Data Plans
We still don't have smart phones or a data plan.
We've looked at it, but it's just SO much more expensive than what we pay now! And I truly don't think it's a necessity. We both have iPods and tablets and we are rarely anywhere that doesn't have free WiFi. This is a huge money saver for us.
Cable
We don't pay for cable TV. We watch a ton of Netflix and are perfectly satisfied with that. We usually don't even have our TV hooked up for basic channels unless there's something on that we really want to watch. We'll hook it up to watch the Olympics this summer, but other than that, I'm good without live TV.
We Splurge On:
Shoes
I had back surgery when I was 21, so I don't get to wear $2 flip flops or cute flats from Target.
We spend quite a bit of money on good shoes for both of us. It definitely keeps me from being in a lot of pain.
We do, however still try to save money on shoes as best as we can. I order a lot of our shoes from 6pm.com and Amazon to get better deals.
I recently started wearing Cobb Hill shoes which aren't too expensive, but have good support. The shoes in the picture are what I picked out for this summer. Now if it would only get warm enough to wear them!
Dog Grooming
Haha, we tried to cut Mozzie's hair once. It was a disaster. Everyone was in tears and now we don't feel bad at all paying to take him to the groomer every other month.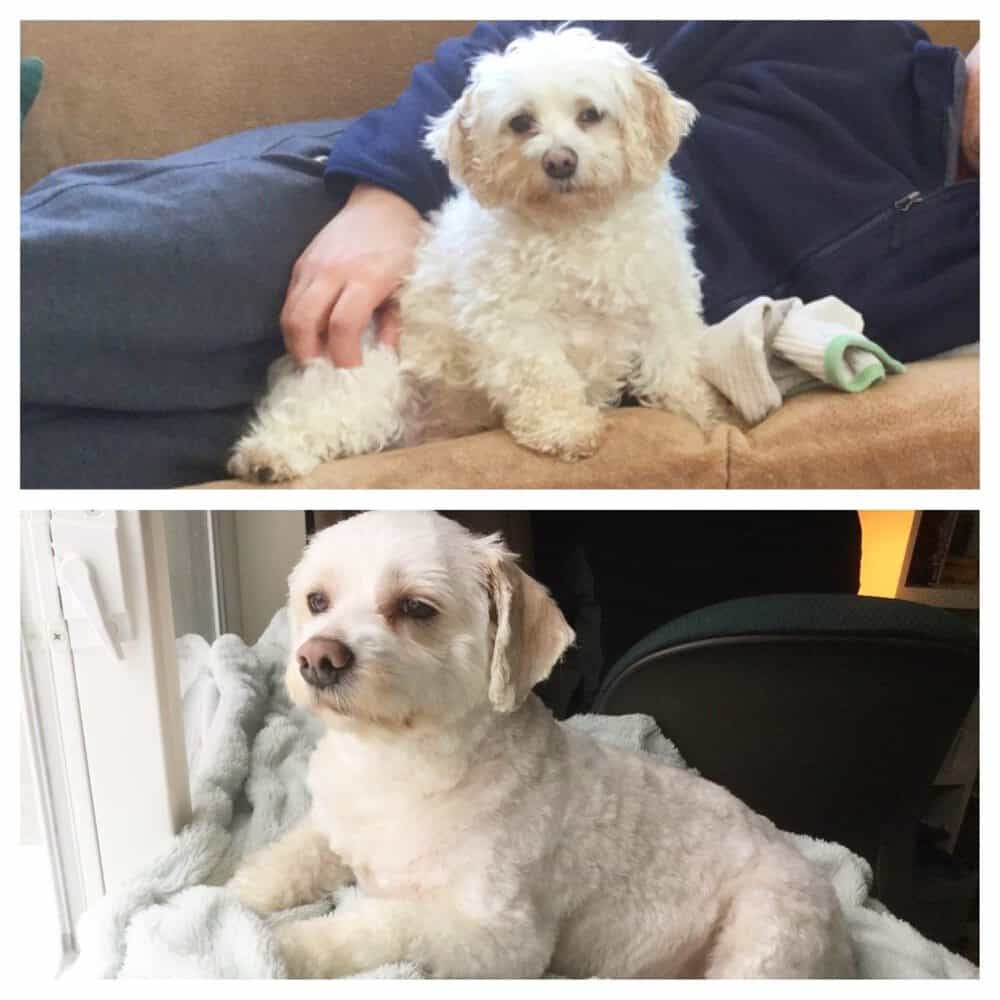 We have found a huge way to save money on grooming though.
We used to take him to a business downtown that charged us $40 each time. After doing some searching, we have found that if you find an individual who does dog grooming out of their house, they usually charge much less.
We found someone who only charges us $25! That's a big difference, especially since he has to get his hair cut every other month.
Apple Products
I'm a big fan of Apple products. I bought my first Mac with my graduation money after high school. I know they are quite pricey. But I've found that they last so much longer and have far less problems than other brands.
My Mac computers have all lasted at least 6 years without problems before I got rid of them. And they still worked, I just wanted an upgrade. Our first iPad lasted about 4 years and is still working fine for my parents. I was just ready to upgrade. And I love how all of the photos I take with my iPod and iPad get sent straight to my computer.
Apple products are just so easy to use and hardly ever have a problem. It's worth it for me. We save a little money on Apple products by always buying the refurbished ones. We don't have the newest model, but it has the same warranty and a little nicer price tag.
Birthday & Christmas Presents For Each Other
I know a ton of spouses who don't buy gift for each other. Like, a ton. But we've always spent a little extra on each other for birthdays and holidays.
We've never had much money to have our own "fun money" (maybe $10 each a month), so it's nice to be able to get each other something nice a few times a year. It's usually not much of a surprise of anything, but it's exciting and special for us to be able to buy something for the other person.
By the way… I'd love for you to follow me on Facebook, Pinterest, Instagram(if you like pictures of adorable dogs and food), and/or Twitter.
You can also "Subscribe Via Email" in the right-hand column to make sure you don't miss any posts.
⇒ Alright, now you need to spill what your splurges are and what you never spend money on 🙂
This post may contain affiliate links. Image backgrounds from Vecteezy.com.
This post is linked up to Frugal Fridays and Financially Savvy Saturday and Share the Wealth Sunday.