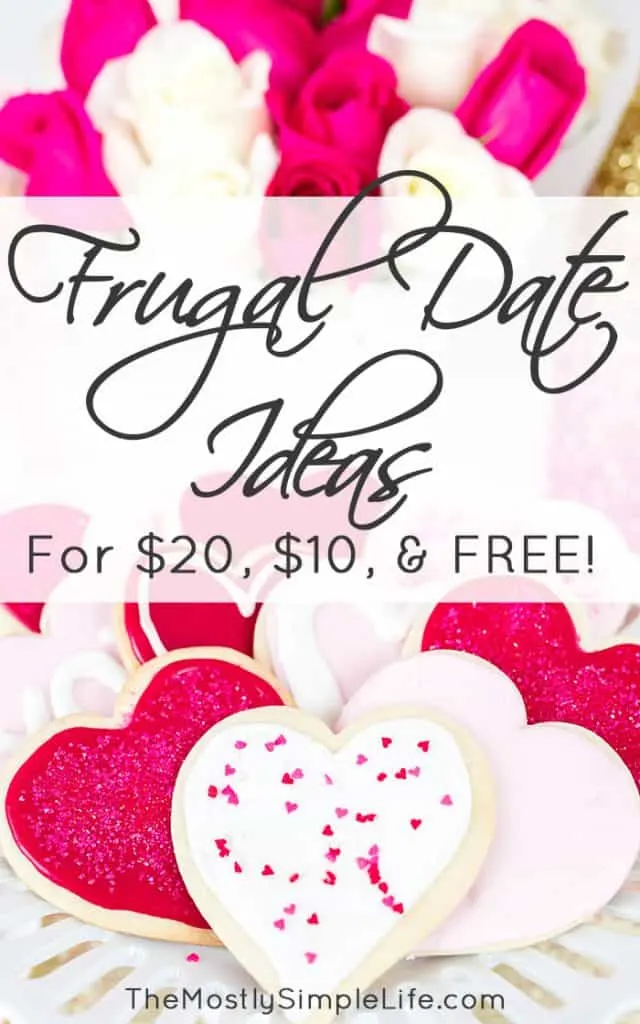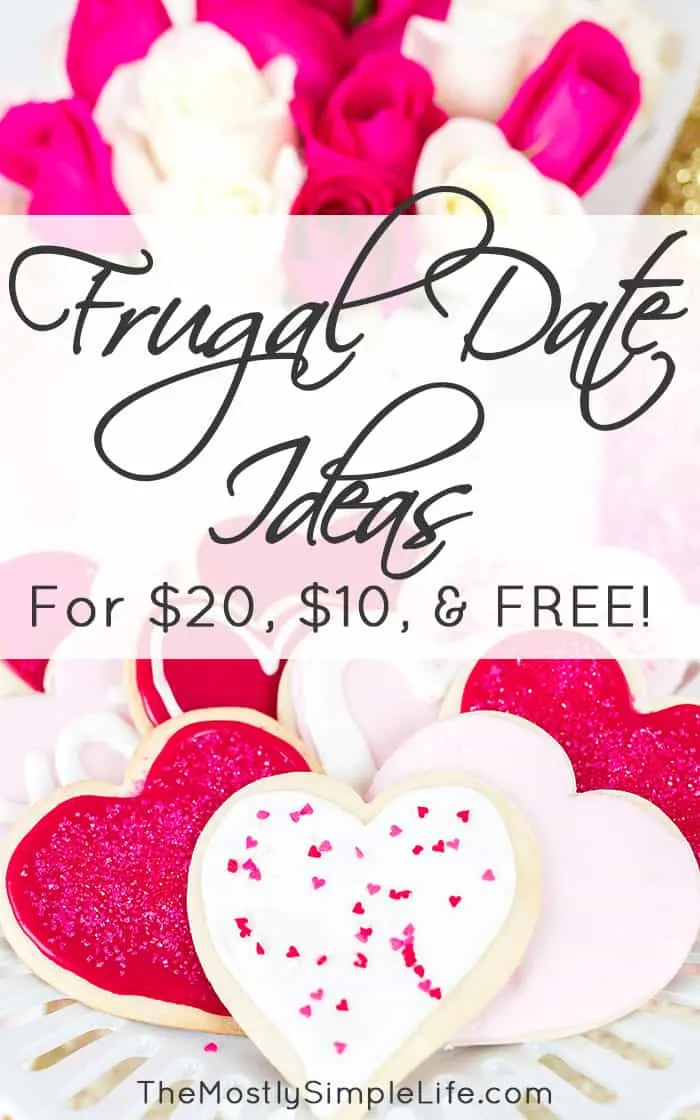 Valentine's Day is coming up y'all!
I thought I'd come up with some simple and frugal date ideas so that you can show some love and appreciation to your special someone. Of course, these work all year round, not just for Valentine's Day.
Austin and I aren't really ever extravagant with dates and gifts. For most of our marriage we've had no money to be extravagant. We do celebrate Valentine's Day, but very simply. We usually go out to eat, but often for lunch and not on the actual holiday.
Since we don't have kids yet, we don't have to be concerned about adding in the cost of childcare for a date. I know it's not cheap, though. But you don't have to go out for a date. You can stay in for a date! Really, it's all about having some quality time together, right?
Here's the thing, you have to treat your date as a date, even if it's a home date and regardless of how much you've spent. Turn your phone on silent, put away other devices, and just be together.
Anyways, I've broken these date ideas down by price so that you can find dates ideas that are in your budget.
Frugal Date Ideas
$20 Dates
Theater Date: We almost always go to matinees when we go to the movie theater because the normal price is insane! $20 is enough around here to go to a matinee. You might even have a few dollars left over for snacks or ice cream afterwards.
Restaurant Date: You can keep your bill under $20 at a decent restaurant if you split an entree or get soups and an appetizer instead of a full meal.
Don't forget to check Groupon to see if you can get a discount at a restaurant or ice cream shop. We got 50% off at one of our favorite restaurants last week by using Groupon!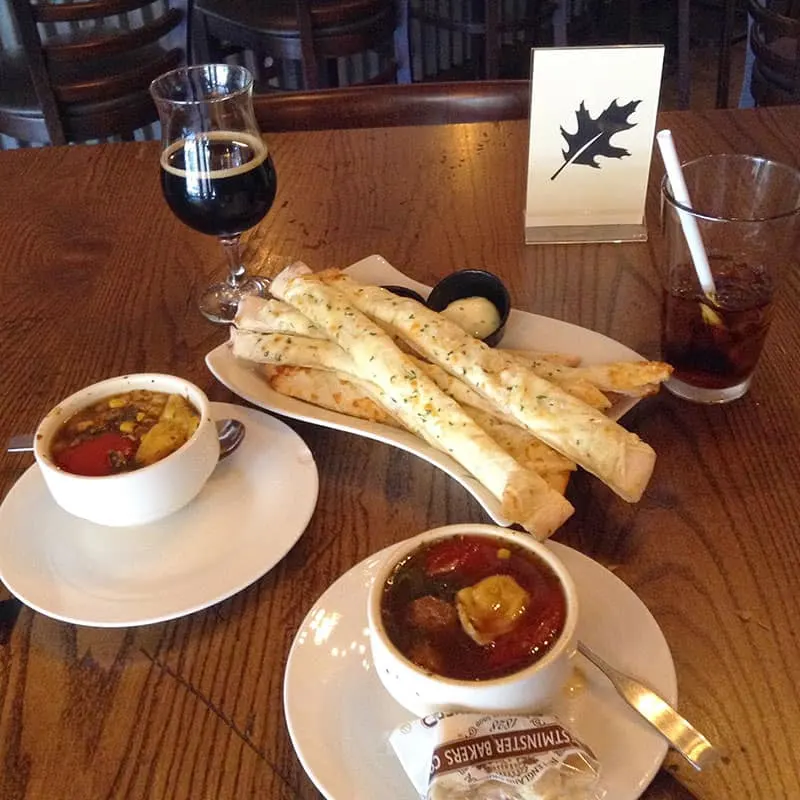 Takeout Date: $20 is plenty of money for takeout. Man, I love takeout. Snag a pizza or Chinese and take it home to watch with a movie. You can rent a movie for a few bucks or watch one you've been meaning to on Netflix or whatever TV service you have. If the weather is nice, take your meal to a park or beach to eat and then go for a walk and enjoy yourselves.
Bowling Date: Austin and I went bowling when we were first dating. It's not too expensive to rent shoes and bowl one or two games and it's a lot of fun!
$10 Dates
Coffee Shop Date: A great $10 date is a coffee shop date! We like to bring a deck of cards or a small board game to sit and play games while we drink our lattes. It's relaxing and some great quality time.
Theater Date: There is a "cheap theater" in our city that plays movies that are in between the regular theater and being out on DVD. The tickets are $5, so you can still have a theater date without spending too much. Do some Googling and see if there's a cheap theater near you.
Movie Date: For a fun home date, you can get a cheap pizza and rent a movie. Little Caesars has pizzas for just over $5 and you can rent a movie for a couple of bucks. There you go, dinner and a movie for $10.
Picnic Date: We love to go to the park when the weather is nice. Stop somewhere for subs before you go and you've got a picnic! You could also pack a nice picnic lunch at home for under $10. If you have a frisbee you can play catch or frisbee golf at the park too, or go for a walk on the trails after you eat.
Ice Cream Date: $10 is plenty of money to go out for ice cream. We're in love with the frozen yogurt places that let you put on your own toppings. There's one in Grand Haven close to the beach (Lake Michigan), so we can enjoy ice cream and beautiful views.
Free Dates
If you've got no money at all to spend on a date, use what you've got!
Remember, it's all about quality time.
If you've got kids, send them to bed early or set them up with a special movie so that you can enjoy some at-home date time. Remember, phones off.
Sunset Date: There's got to be somewhere within a short drive of you where you can watch the sunset. Grab a cozy blanket to wrap up in and whatever snacks you've already got in your cupboards. If it's cold out, make a thermos of hot cocoa.
Home Date: We like to listen to audiobooks together. One winter, we listened to a bunch of audiobooks while putting puzzles together. You can find free audiobooks on YouTube or through your library. Our library gives us access to an app where we can download them. You probably have puzzles or board games you don't use very often, so bust those out!
Park Date: Go for a walk at a nearby park. Bring a ball or frisbee to throw around. Just have fun together and get some fresh air.
Netflix Date: Do you already pay for Netflix, Amazon Prime, or can you record movies from cable? Pick out something special and watch if together! Remember, phones off and other devices put away. Cuddle up on the couch and enjoy being together without distractions.
Don't forget about your city!
Check out what's going on in your city. So many cities have events going on all the time, many of them are free or very inexpensive. Our city has a website where anyone can submit area events happening. You can see everything going on in one place.
Just around here, there are festivals, swing dancing nights, free concerts, tours, classes and much more. Take advantage of where you live!
Related Posts:
10 Ways to Save Money Going Out to Eat
13 Secret to Saving Money on Food
Simple & Meaningful Christmas Traditions
⇒ What are your frugal date ideas? What do you usually do for Valentine'sDay?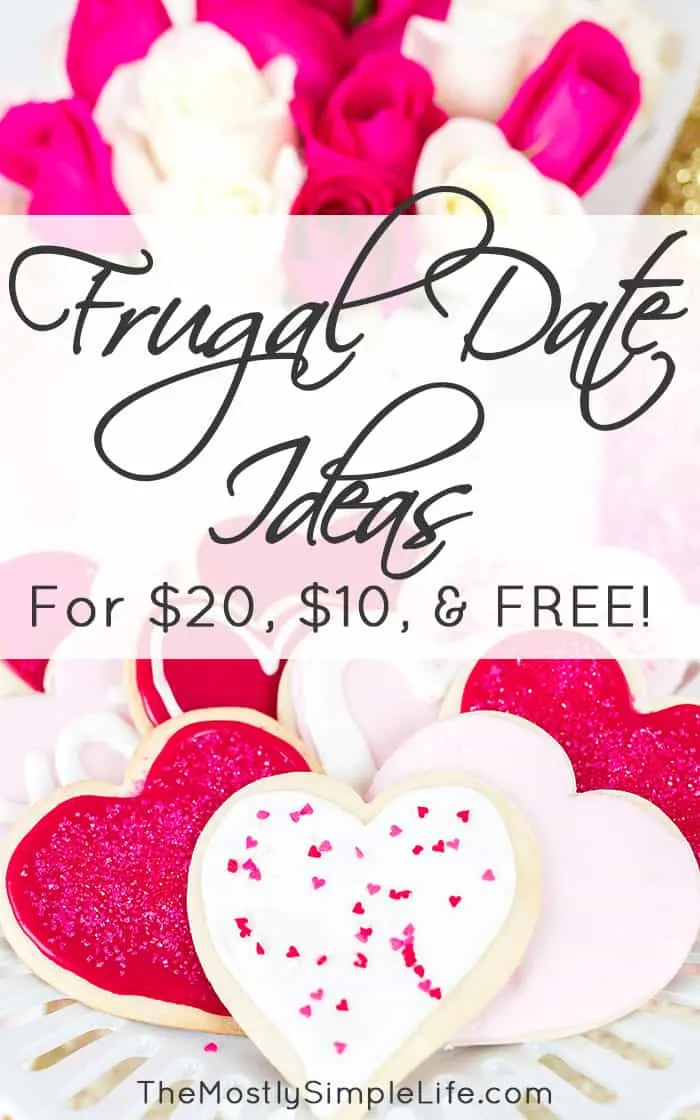 If you find this page helpful, please pin or share it :)