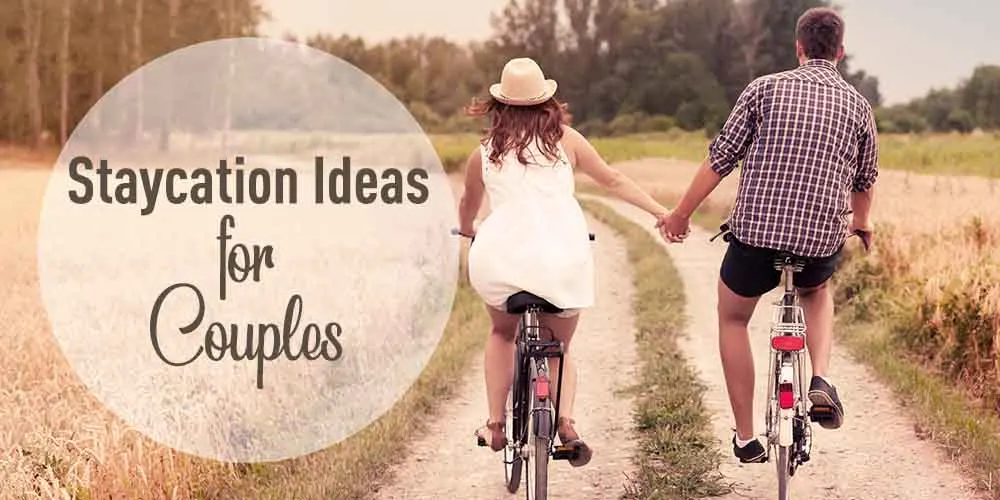 Since we're trying to pay off all of our debt this year, we don't have any big trips planned. We have, however, been getting excited about the idea of a staycation! Like, really excited!
There are so many cool things in our city that we never make the time to enjoy:
Amazing breweries and restaurants,
Museums (and art galleries that are free to visit)
A wildlife park,
More festivals than I can count
A ton of great live music
Plus, we live within 45 minutes of Lake Michigan, which means beach days are always within reach.
So while we won't be traveling anywhere, I'm thinking we'll have a lot of fun with our time off. Just to make sure we have the most fabulous staycation possible, I've been looking up advice from other bloggers and I found some great ideas that I hadn't thought of…
Preparing for the Best Couple Staycation
I hadn't thought about how to make staying at home seem more vacation-like. I loved the advice in the pinned article below about spending time cleaning and doing chores the day before your staycation starts so that you can relax and have fun – no chores allowed!
I'll definitely be setting out some fresh flowers and buying good coffee as well to make staying home feel more special.
I'm loving all of the ideas for a winter staycation. In Michigan, it's not uncommon to have a blizzard during spring break, so unless you're heading south, you might not get outside much.
20 Genius Staycation Ideas for Couples
There are some really creative activities listed! Here are 30 ideas for great staycation for couples:
Take pictures like you would on any other vacation. This is so good. I'm terrible at taking photos and I could see myself forgetting to take photos on our staycation because we're still in our hometown and not somewhere new.
Stay in a local hotel for 1 night. Our budget probably won't allow it this year, but I'd love to stay at a hotel in our city. There are some gorgeous hotels that would be so much fun to stay in! You can also google "romantic getaways near me". to find cute little inns and hotels in new local places.
Keep your tech away. Technology blackout. When we're on vacation, we're using technology a lot less, so I love the idea of a technology blackout.
Check out some new-to-you coffee shops or bakery. If coffee shops is your thing, go to a brand-new coffee shop or bakery that you've never visited before, and try something new there. You will perhaps find a delicious crispy French croissant you have never tried before? We have even found an Amazon "Triple Baked" Chocolate croissant at a French bakery one time.
Try a restaurant you have had on your list for a long time. Almost every city has an abundance of great, unique restaurants to try. Check out your nearest Zagat guide for some ideas!
Go for a walk in a completely new neighborhood and find some new places.
Plan for at least 1 daily excursion per day. Make regular excursions in or around your community (hikes, museums, beaches, culinary tours, etc.). Hikes are great, and most places have state parks, national parks or forest trails to experience nature. All you need is a backpack, comfortable socks, and a pair of good hiking shoes (we use the moab 2 and moab 3 hiking shoes).
Brainstorm ideas together as a couple. To make it a true couple's staycation, at least some of the planning should be done together.
Make your home feel special. This includes decor, clothes, food, and anything for a romantic ambiance. A few ideas: treat yourself to new bath products, make a special cocktail, make extra treats for your loved one (we all know how yummy desserts can be).
Visit a local touristy site you've never been to before. Whether it's an art gallery or zoo in another part of town we haven't gone to yet, we'll definitely be doing this!
Stock up on food you LOVE but haven't had in a long time. For us, it was yummy treats, cheese and wine from Costco that we hadn't had for years because we no longer had a Costco membership. We just had a friend of ours to pick up a few things on their trip 🙂
Take a day-trip somewhere close. Pack a lunch and enjoy the drive. We just did this on our trip to Chicago!
Enjoy your backyard more than you usually do. It's easy to forget about all of the fun stuff you have at home simply because it's so familiar, even if your yard is pretty cool. For example, cuddle up by a fire (we build a fire pit with brick stones from Lowe's).
Take a trip to the farmer's market. We like to do this on the weekends, but it would be fun to go during a staycation as well. You can get some very affordable meals from the farmer's market and then sit back and enjoy them together at home.
Have a movie marathon. If you're a fan of watching movies, this is a fun one! Pick a theme or brainstorm movie ideas together.
If you can go to another city for your staycation, do it. I really want to make this happen with our next vacation! This is such a cool idea – whether you live in an urban or rural area, you can find a nearby destination that's just as interesting than your own town.
Enjoy a special event in the city. This could be anything from an outdoor concert to a free museum night. The point is, it doesn't have to cost you anything! We went to a Free Comic Book Day at our local comic shop. Google "free events near me" to find new ideas.
Read a book together. My hubby and I are a bit nerdy so we like reading books. If this could be a thing for you to, check out The 5 Love Languages: The Secret to Love that Lasts, or A Year of Us: A Couples Journal: One Question a Day to Spark Fun and Meaningful Conversations.
Couple's Game night! A nice way to spend the night is doing some friendly competition with one another. A few ideas are board games, trivia, or video games! We have done this as a couple before and it's always a great time.
Go for a 2+ hour hike. There is something about being outdoors and walking that makes people happy.
And just in case there weren't enough good ideas yet, I found a whole bunch more!
If you find this page helpful, please pin or share it :)