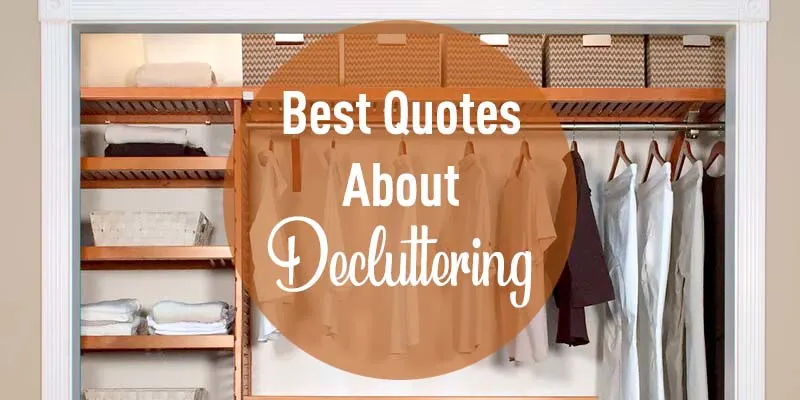 We live in a world where we constantly feel rushed and overburdened, with our homes overflowing with clutter. We all too often readily accept this as the norm. We're on overload, and we don't see how we can possibly get out of it.
It doesn't have to be this way! Don't wait for the ideal opportunity. Today, organize your home, plan your week, and get organized in your life. Here are some inspiring quotes to help you declutter your home and your life:
It's possible that words alone can't solve your problem, but some of these wonderful quotes below might inspire you to do declutter. Sometimes, words are just what you need to find the right motivation!
So, we've gathered some of the best quotes to help you declutter and make your day brighter. We are hoping that you will get inspiration from them just like we did.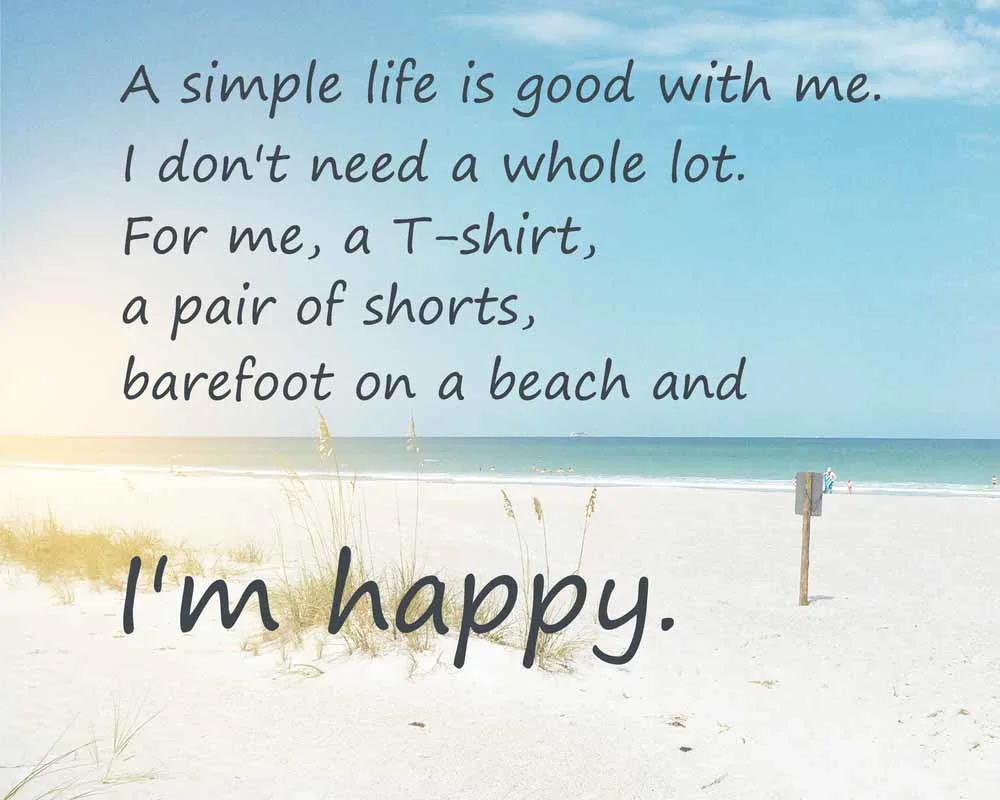 Our Selection of the Best Quotes about Decluttering
So, here are some inspiring easy decluttering quotes to help you find new energy to finally get rid of your clutter.
"You'll never see a U-Haul behind a hearse…. I've been blessed to make hundreds of millions of dollars in my life. I can't take it with me, and neither can you. It's not how much you have but what you do with what you have."

– Denzel Washington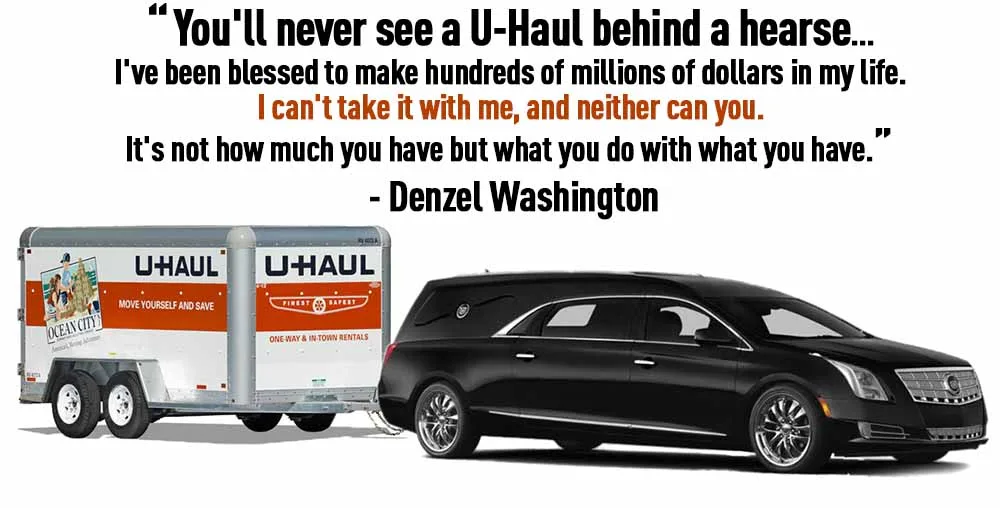 About clutter and having too many things:
Whether it's your inbox, your wardrobe, your email or your to-do lists, decluttering can make you more efficient and productive. It can also make you feel better by giving you more room. We hope that this amazing quote selection will help you get rid of the stuff that's cluttering your life.
"Your home is living space, not storage space." – Francine Jay (Author of "The Joy of Less: A Minimalist Guide to Declutter, Organize, and Simplify")
"When we focus more on fitting it all in instead of making time for what counts, we lose sight of how to create a meaningful life." Courtney Carver, Soulful Simplicity: How Living with Less Can Lead to So Much More
"Ask anyone what makes them truly happy, and they won't say their stuff." – Peter Walsh
"The secret of happiness is not found in seeking more, but in developing the capacity to enjoy less." – Socrates
"The best things in life aren't things." – Art Buchwald
"The ability to simplify means to eliminate the unnecessary so that the necessary may speak." – Hans Hofmann
"Beware of destination addiction – a preoccupation with the idea that happiness is in the next place, the next job and with the next partner. Until you give up that happiness is somewhere else, it will never be where you are." – Robert Holden
"Fill your life with experiences, not things. Have stories to tell, not stuff to show."
"Step 1: stop being a crap collector. There is no point in getting rid of stuff if you are just going to replace it with more stuff. You have to start by stopping the madness. (…) Like any addict, you must admit you have a problem." – Gary Collins (Author of "The Simple Life").
"Hi, my name is Gary, and I'm a recovered Clutteraholic. Now it's your turn. And believe me, you are going to feel relieved the moment you admit this." – Gary Collins.
Reducing clutter to focus on what matters:
"Clutter and mess makes people unhappy. Simplicity help people focus on things that matter." – anonymous

"Once you learn to detach happiness from acquiring and owning things you can focus on what truly makes you happy—and actually achieve that." – Peter Walsh

"Have the courage to build your life around what is most important to you." – Joshua Becker
"Minimalism isn't about removing things you love. It's about removing the things that distract you from the things you love." – Joshua Becker
"The first step in crafting the life you want is to get rid of everything you don't." – Joshua Becker

"It's not how much we have, but how much we enjoy that makes happiness." – Charles Spurgeon
Discarding clutter:
"Discard everything that does not spark joy. When you surround yourself with possessions that spark joy, you'll create a home and a life you love." – Marie Kondo
"Start by discarding, all at once, intensely and completely. (…) Do not even think of putting your things away until you have finished the process of discarding. (…) You can think about where to put things only when you are finished getting rid of everything you don't need." – Marie Kondo
"The key to success in tidying is to finish discarding first. You can only plan where to store your things and what to store them in once you've decided what to keep and what to discard" – Penguin.co.uk.
"Edit your life frequently and ruthlessly. It's your masterpiece after all."
~ Nathan W. Morris
About living a more simple life:
"I'm just delighted to be living, to be able to have a simple conversation, to feel a ray of sunlight on my skin and listen to the breeze move through the leaves of a tree." – Ryuichi Sakamoto
"My new deliberate and slower pace has created a higher quality in my experiences." – Lisa J. Shultz, Lighter Living: Declutter. Organize. Simplify.
"I don't say no because I am so busy. I say no because I don't want to be so busy." – Courtney Carver
"I went from 1,700 to 475 square feet, almost a 75 percent reduction in living space! (…) My $3,500 in monthly living expenses shrunk to $1,100 per month. I can't explain the cleansing effect this had on my psyche." – Gary Collins in "The Simple Life".
"Clutter smothers. Simplicity breathes." – Terry Guillemets
"A simple life is good with me. I don't need a whole lot. For me, a t-shirt, a pair of shorts, barefoot on a beach, and I'm happy" – anonymous
"Living simple is taking care of yourself. Knowing what makes you happy. Focusing on what makes you happy. At the end of the day, what makes you happy is really, really not that complicated. A fat mortgage or a cluttered garage won't make you happy. It probably all comes down to health, family, friends, experiences, and a positive environment. Knowing this makes it really easy to discard the extra clutter in your life."
"We're accumulating stuff. We want bigger houses and more money. People who live a simple life enjoy themselves with gratitude, love, friends, and experiences. We drive gas-guzzling SUVs, fill up our garages with storage bins that seem to scream 'Buy the next Costco bargain'." – anonymous
Top Decluttering Quotes
To start with, let's review our 10 favorite quotes about family, friends, work, fun and leading a simple life:
"Life is really simple, but we insist on making it complicated." – Confucius
"The first step in crafting the life you want is getting rid of everything you don't" – Joshua Becker
"Discard everything that does not spark joy. When you surround yourself with possessions that spark joy, you'll create a home and a life you love." – Marie Kondo
"Count your age by friends, not years. Count your life by smiles." – John Lennon
"Good social relationships are the most consistent predictor of a happy life" – Thomas Oppong, Stanford Medicine
"The question of what you want to own is actually the question of how you want to live your life." – Marie Kondo
"Happiness is not something you postpone for the future. It is something you DESIGN for the present." – Jim Rohn
"It is the bonds we make with the ones closest to us, and the love we share with our family that we truly need in our last moments. The rest is left behind, unwanted for our legacy."
"Spending money on others—prosocial spending—leads to greater happiness than spending money on oneself." –Michael Norton (Source)
About friends and experiences that make you happy:
"People are notoriously bad at predicting what will make us happy." – Daniel Gilbert (we think the next purchases will make us happy, but they will not)
"There is only one happiness in life. To love and to be loved." – George Sand
"Make a list of what truly matters and what makes you happy."
"Make time for the people and experiences that matter to you."
"There is always room in your heart for one more friend."
"Enjoy making new friends TODAY." – Suzanne Douglas
Keep reading with our 110 quotes to lead a simple life.
If you find this page helpful, please pin or share it :)