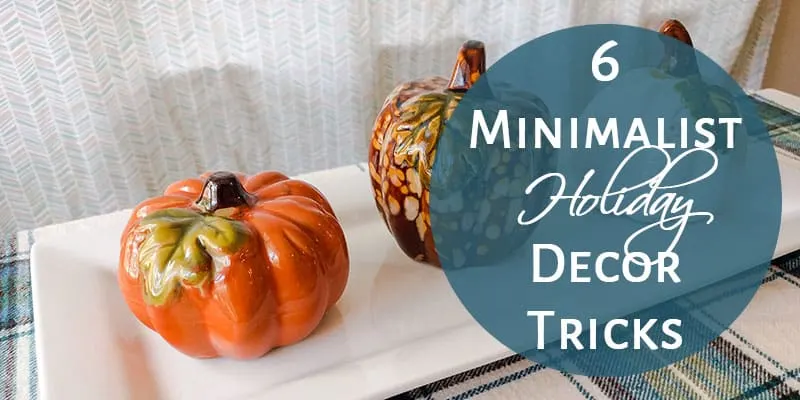 I have a bit of a formula when it comes decorating our home. I absolutely love having seasonal and holiday decorations out. It just makes me feel festive and happy!
At the same time, I'm probably overly sensitive to our home feeling cluttered: I don't like tables and counters covered in little decorations — it just looks too busy.
You know I am also very careful about how we spend our money and I don't care to spend lots of money on decorations that are only out for a short part of the year. My little decorating formula helps limit how much I spend on decorations. You'll see what I mean in a minute.
Oh, and also a bonus: It doesn't take me very long to decorate for each season. I have less to clean up and put out but because it's all done strategically, yet it still makes a very festive impact.
Anyway, these are my tricks for decorating our house simply and beautifully for each season/holiday.
6 Minimalist Holiday Decor Tricks
1. Choose Which Zones to Decorate
I have a few "zones" in our house that I decorate for each season. These are the areas that I know we'll see most often.
I always have a table runner with a cute tray on our table. The bathroom gets something festive on the counter. In the living room, I make a small vignette on the fireplace. If I have enough decorations, I also like to put something in our bedroom.
I don't worry about any other areas. These are the most visible areas of our home, so I decorate these places since they will have the most impact.
Depending on your house, perfect zones to decorate might be:
The front door
An entry hallway
The kitchen
Fireplace mantle
Office
Buffet table
Choose a few places to focus your decorating efforts and don't worry about the rest!
This is also a natural space limit that keeps me from buying extra decorations. If I have fall decor for each of my zones, I don't need any more.
The picture below shows the table runners and trays I put on our table for each season.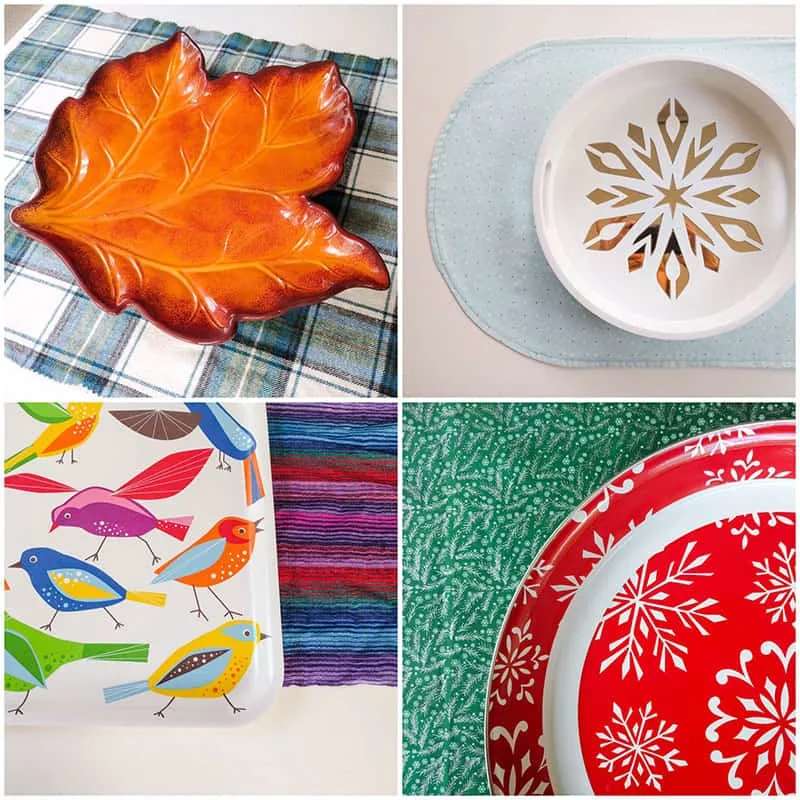 2. Fewer, Larger Pieces
I always gravitate to fewer, larger pieces in our home. They make a big visual impact without looking cluttered.
A good example of this would be the gallery walls that are quite popular right now where you hang multiple picture fames on a wall all close together. While I think these can be really beautiful, for my home I prefer one giant piece of art to 30 smaller frames. Lots of little things can be visually cluttered-looking.
On our table, I decorate with a table runner and a decorative tray. The table runner fabric adds some softness to a hard surface and highlights the pretty tray. The trays are quite large, so they make an impact without needing other pieces around them.
I have a huge stuffed snowman that I absolutely adore. He makes a fabulous visual impact all on his own which I think looks much less cluttered than a collection of lots of little snowmen grouped together.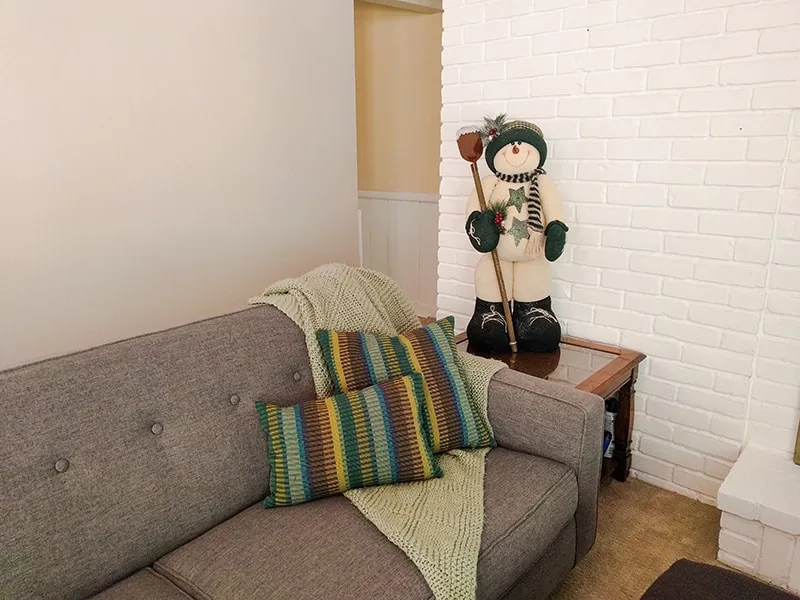 3. Put It On Something
When I do group together a few smaller items, I like them to be anchored on a tray or placemat.
This helps turn multiple items into one item. Instead of three pumpkins sitting out, it's one tray of pumpkins. They feel anchored and like they belong there, not like they're scattered on the table.
I have a long narrow tray that I place groups of three on for almost every season. I also buy pretty placemats to use as fabric anchors for small decorations.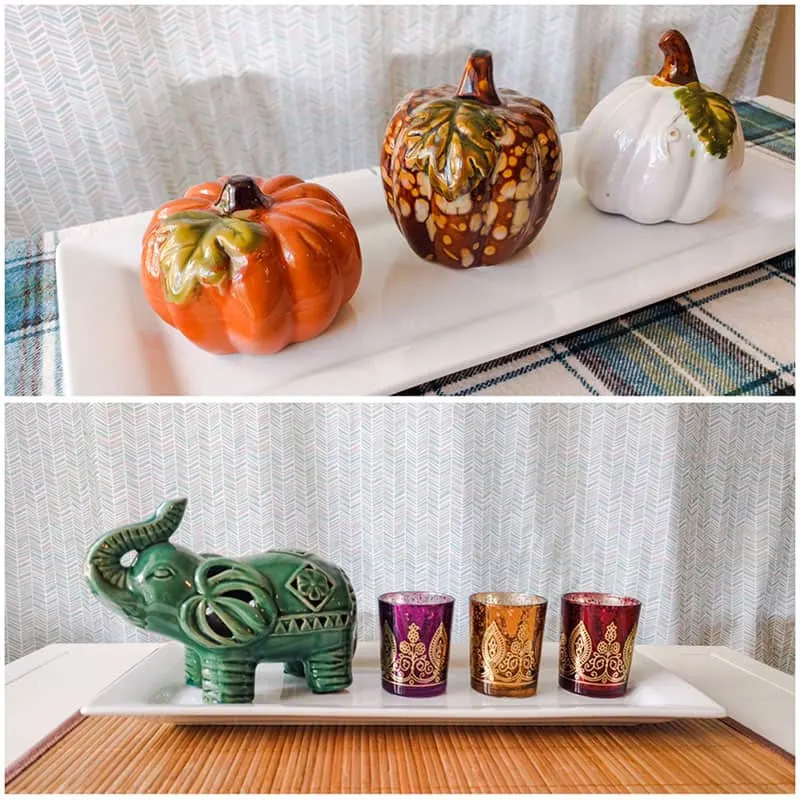 You Might Like These Posts Too:
5 Things to Declutter Before Christmas
How to Create a Year-Round Decluttering Routine
DIY Homemaking Binder + Printables
Simple Christmas Traditions to Start This Year
4. Seasons Not Holidays
To decorate more simply, it helps to focus on seasons instead of individual holidays.
I don't decorate specifically for Halloween or Thanksgiving. I have pumpkin and leaf decor that works for the entire fall season.
Of course, I do decorate for Christmas and have lots of extra decorations for that single holiday. I also like to collect snowman items because I can leave them out for the rest of winter after I pack up the Christmas-specific stuff.
I have a couple of pieces that are for a specific holiday, but most of my decor can last a whole season which means I get it enjoy it for more time!
5. Love It
I absolutely love every piece of decor that I put out. A whole lot of it was handed down to me or given as a gift.
The things that I have purchased from the store myself are things that I just couldn't pass up. It wasn't because "Yeah, it's cute. I could use that and it's on sale…" It was more of a "I can't stop thinking about it and will adore it forever" kind of mentality.
Making sure that I only decorate with pieces that I love helps me keep things simple and makes me look forward to decorating and seeing those favorites again.
The Christmas houses that I bought from a department store I thought about for weeks and finally spent my own money on, at a time when we didn't have much to spare. I absolutely love them!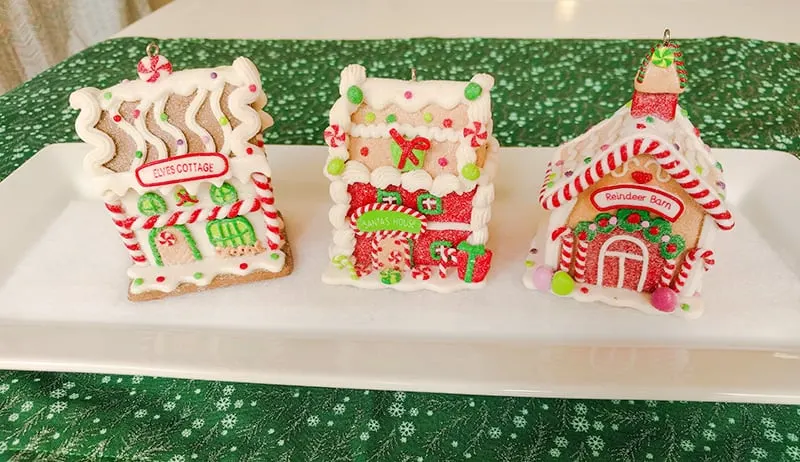 6. Keep It Meaningful
Beautiful decor is often meaningful. Yes, the Christmas tress at the store all decked out with the newest ornaments are pretty, but there's something genuinely beautiful about decor that means something to you. It has memories attached and a history and that's the best!
My glass pumpkin came from an antique shop that I visited with my dad when I first moved to a new town. He bought it for me and it's very special because of that memory.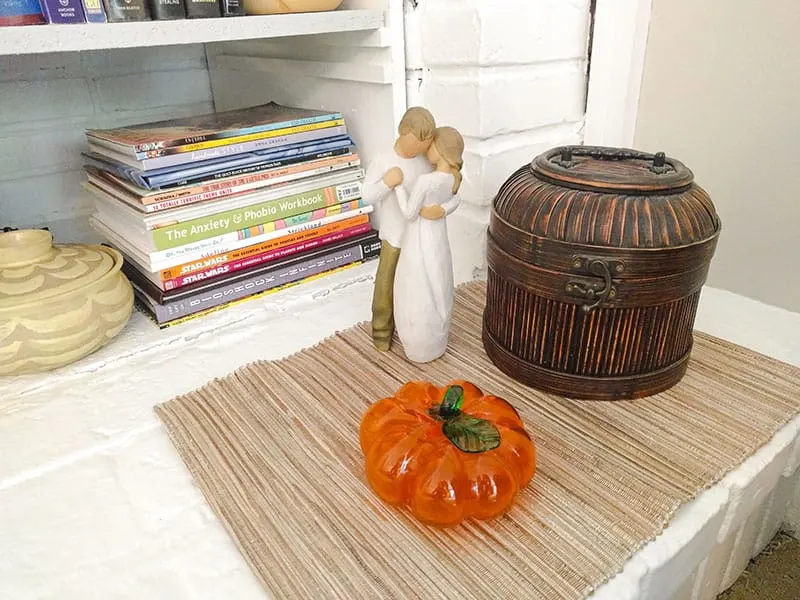 I have a winter picture frame with a family Christmas picture from when Mozzie was a puppy that I only put out for Christmas. It's a meaningful part of our Christmas decorations!
I try not to fill our home with random stuff from the store (unless I truly adore it like I mentioned above) because our whole house feels so much more special and beautiful when it's decorated with meaningful pieces.
I get ridiculously excited to change out our decor for each season!
Because I've limited what we have to only meaningful and favorite decorations, I always feel like I can't wait to pull those things out each year. Plus, by choosing specific areas of our home to decorate, I limit what I will buy but also ensure that we'll have pretty things to look at in the most visible places in our home.
These strategies have worked perfectly for me in every home we've lived in (though the "zones" I decorate may change because of the layout of the home). I can definitely see myself continuing to decorate in this way for years to come.
⇒ What are your favorite seasons to decorate for? Do you have any extra meaningful pieces you love to put out?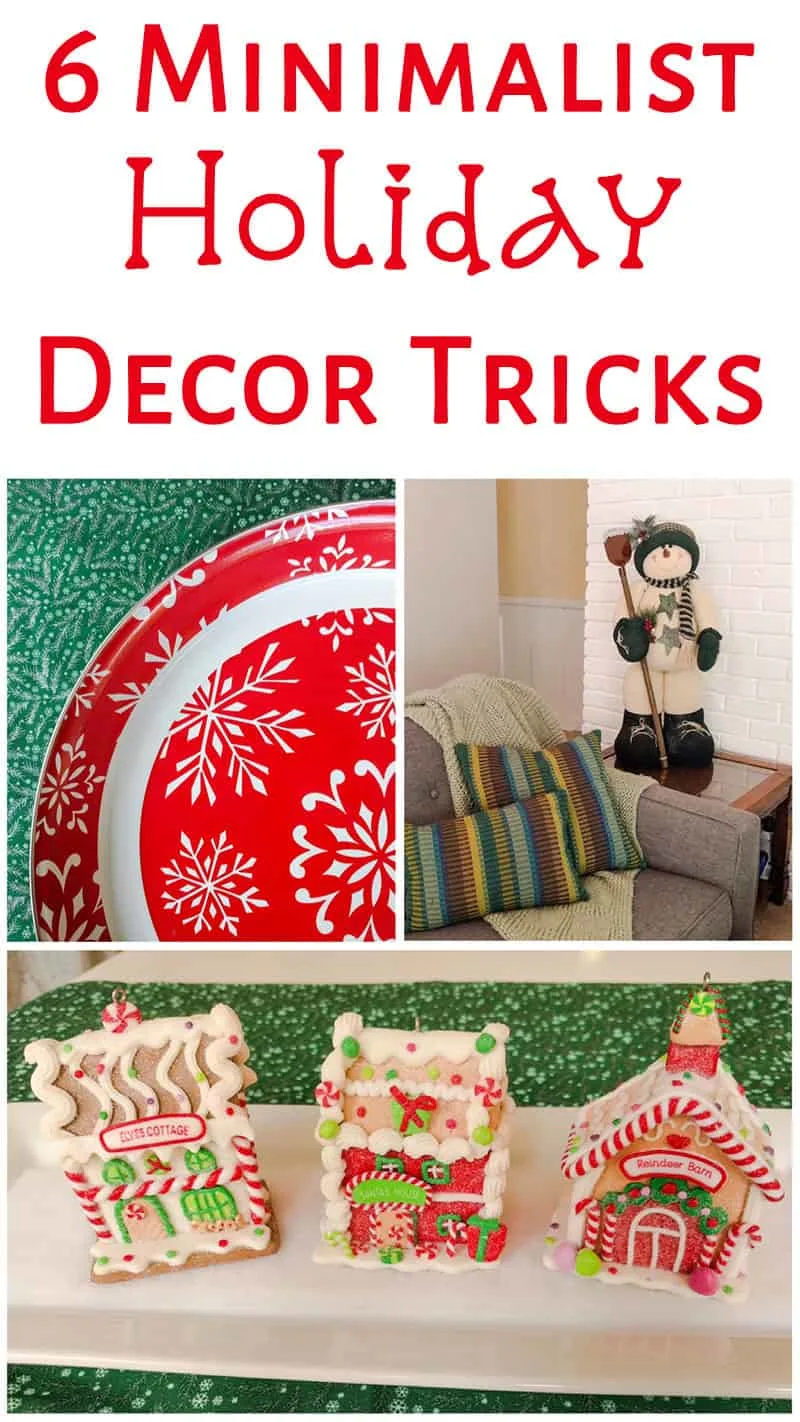 If you find this page helpful, please pin or share it :)