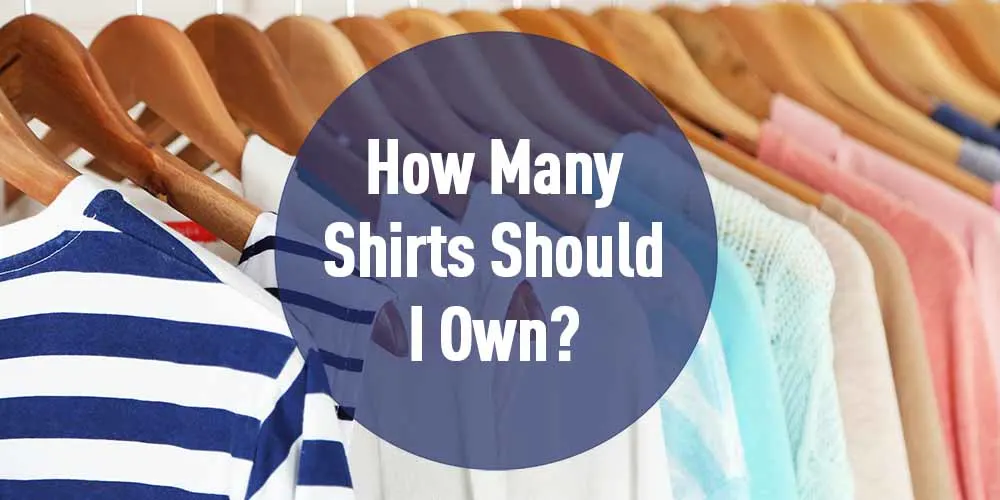 Ever since I gave up my 9 to 5 job and chose a freelancer career, I've been trying to create a functional, classy wardrobe that only includes clothes I love, and I feel good wearing on any occasion. As I work from home and rarely go out partying, I don't need fancy outfits that follow the latest trends. I prefer to buy casual, quality pieces of clothing that can be mixed and matched to create a comfortable, timeless style that talks about who I am.
If someone tries to look into my closet to identify the pieces I wear the most and those I love the most, they would definitely realize I am a classy lady who loves wearing dress shirts. Shirts are the back bones of my wardrobe, and I am so proud of my little shirt collection.
One of the most common questions that pops up whenever I talk with my friends about clothes is: "Don't you think you have way too many dress shirts in your wardrobe?". But how do you know how many shirts you need to have a complete, stylish wardrobe? Truth is there's no real standard answer to this question.
How many shirts do people own on average?
According to a recent survey from ClosetMaid, the average American woman has 103 items in her closet.
Most women own 20-30 t-shirts, tank tops, blouses, and dress shirts (The average woman owns 5-7 dress shirts).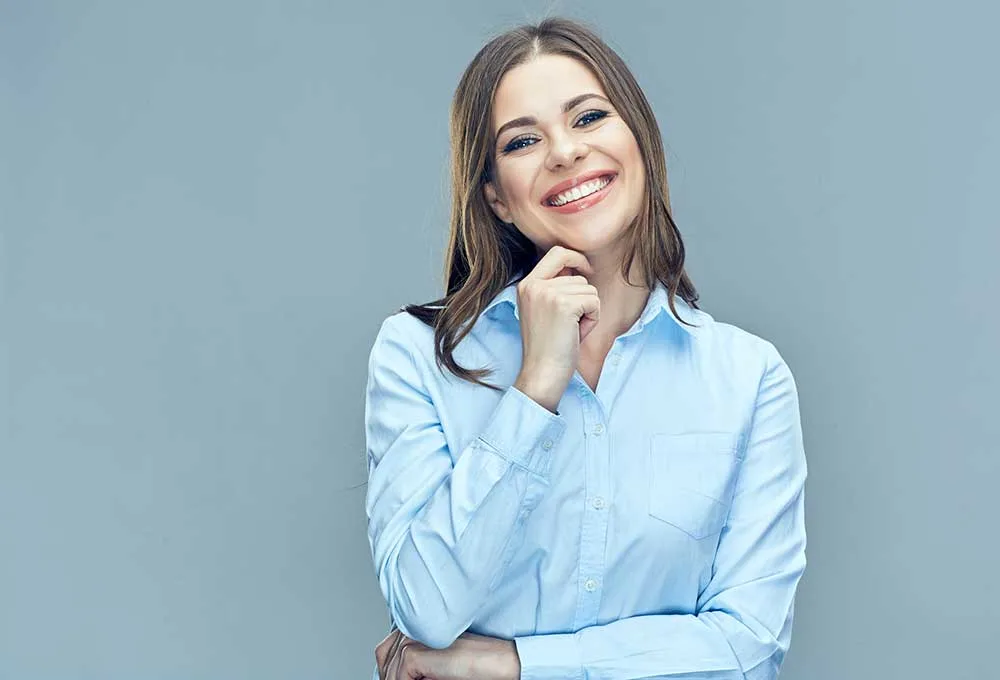 In my opinion, the number of dress shirts you own depends on your lifestyle, your fashion preferences, your comfort level and whether or not you must follow a certain dress code at your job. If you wear 7 shirts a week and you wash your clothes twice a week, then 7 shirts should be more than plenty. Most women in the US own 5-7 casual outfits and many of them include a dress shirt.
But if shirts are your favorite clothing item, and if you don't see yourself wearing something else than a shirt, even when you work from home (like me, haha), then, you will probably add a few more dress shirts to your wardrobe.
How many shirts should you own?
How many shirts you should have depends on how often do laundry and whether you wear shirts (for example if you wear shirts at work, you will likely wear shirts 5-6 times per week). Here is a table to summarize my recommendations:
| | | |
| --- | --- | --- |
| | Laundry Once a Week | Laundy Once Every 2 Weeks |
| If you don't wear shirts at work or stay at home | 1 elegant dress shirt 2-3 casual dress shirts | 2 elegant dress shirts 3-4 casual dress shirts |
| If you wear shirts at work | 1 elegant dress shirts 5-7 casual dress shirts | 2 elegant dress shirts 10-15 casual dress shirts |
Personally, I have about 15 shirts: I might buy some more (especially if I notice something new in one of my favorite stores). I'll also retire some periodically, but overall, that's the number. You may think that's a lot, but I don't consider it to be too much for a number of reasons: shirts are versatile and can be worn with basically anything (pants, shorts, skirts, even dresses), they rarely go out of style, so you can wear them for years, and you always look put together if you wear shirts (even when you pair them with jeans).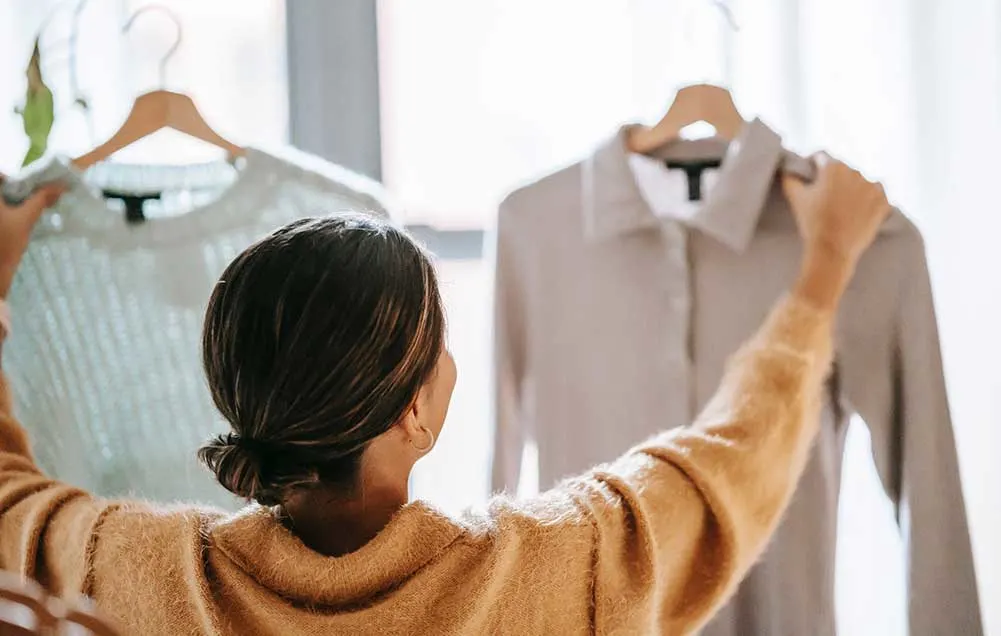 I also think that, the more shirts you have, the fewer you wear the individual ones, the longer they will last. For instance, the older shirt I have is 15 years old and I bought it when I was on vacation in Italy. It is an expensive shirt that I only wear on special occasions as I plan on keeping for many years ahead. I have many other shirts that are more than ten years old and I still have them in my rotation.
How to choose your shirts
Let's face it: the fashion industry passes along trends, and sometimes older clothes become outdated very quickly. Dress shirts for women come in a huge variety of styles, fabrics, and colors, so that making your choice can be just as confusing as picking out your favorite pair of jeans.
However, I personally try to ignore the latest trends and choose quality over quantity. When I go shopping, although I tend to get inspiration from the fashion magazines, I only invest in pieces of clothing that will last longer and make me feel special. For instance, the features I look for when buying dress shirts are:
The correct length – it should be long enough to be able to wear it tucked or untucked.
A fitted fit (best shirts flatters my contours)
Fully buttoned vertical opening.
Natural fabrics (cotton or silk).
Long sleeves with cuffs at the wrist.
A crisp and firm collar that will make a great first impression.
Always look for gaps in your front buttons. If you see some space between the buttons, that shirt is not for you. Also, if you need to suck in your stomach the entire time you have it on, it means the shirt is too tight, so you'd better look for a looser-fitting style.
Colors and fabrics
My friends love wearing white shirts. They are extremely versatile, so you can literally take them anywhere, whether you are attending a networking event or going to a dinner party. Getting a high-quality white dress shirt (or two) is definitely a good investment for your wardrobe.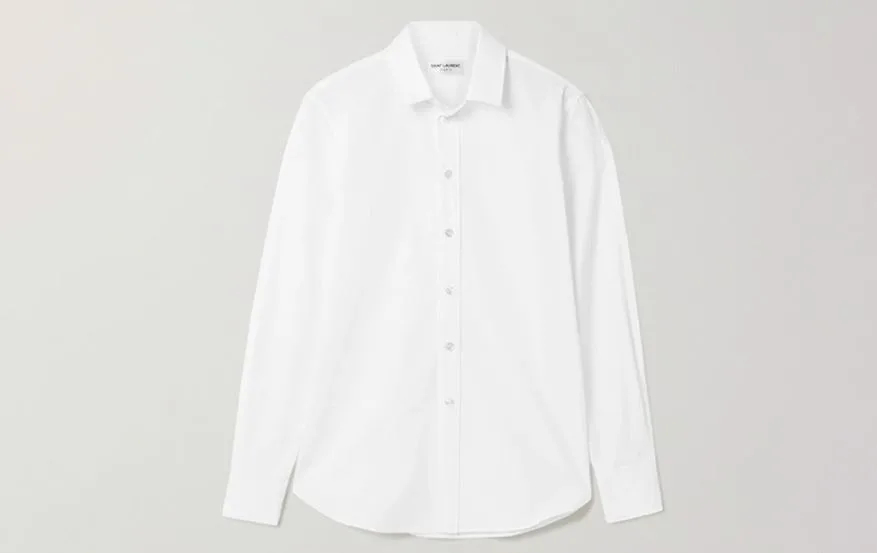 I personally enjoy colorful clothes, so I usually try to incorporate colors into all my outfits. Once I find a nice dress shirt, I usually buy it in many different colors and patterns, and I combine them with neutral-colored pants, skirts, and jeans. My go-to patterns include stripes and checks, but I feel like floral patterns really help me stand out.
When it comes to fabrics, during the day I like to wear a breathable, strong, and comfortable shirts made of cotton, while at night I would go for a silk shirt that is softer, and more elegant. Linen shirts are more casual than the average cotton shirts, and I like to wear them with a blazer and raw denim jeans, for a relaxed day to day outfit.
If you want to look casual but also sophisticated, having the right pieces of clothing in your wardrobe is a must. And if you want to be effortlessly chic without breaking the bank, 5-10 quality, classic dress shirts are all you need.
Related posts about your clothes:
If you find this page helpful, please pin or share it :)