Vegetarian food can be expensive! That's why I have compiled here for you a vegetarian grocery list with cheap items that can help you reduce your grocery budget.
The latest wave of delicious veggie meat such as Impossible or Beyond Meat burgers can really increase your grocery bills if you are not careful. All these $5-7 purchases add up. You will find below a list of super-cheap vegetarian products that can provide you with important nutrients including proteins, while still saving you money. Taking a list with you to the store is one of the strategies we recommend to cut your grocery bills and grocery shop on a budget.
Cheap Vegetarian Grocery List (with Items under $0.99 per serving)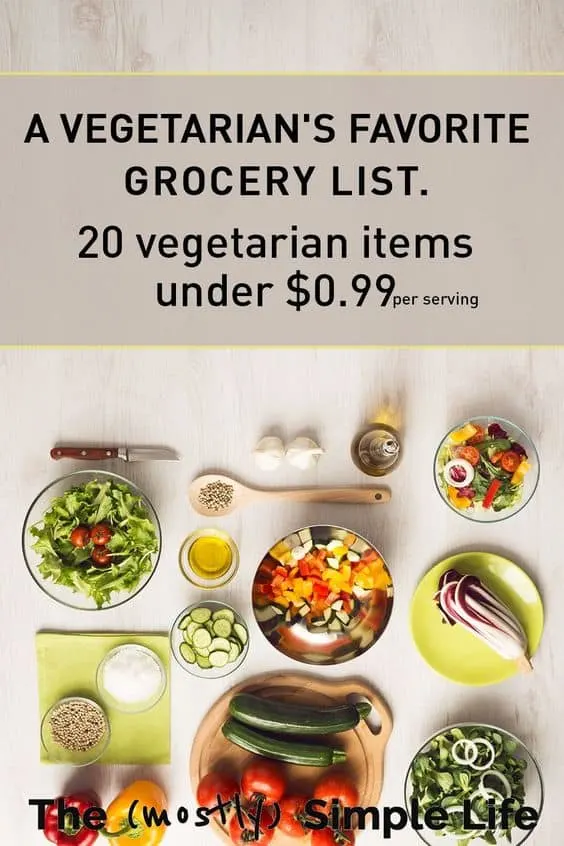 The prices listed below are prices per individual serving.
Vegetarian Proteins
1. Eggs: 6¢
Eggs are an extremely inexpensive way to get protein, and contain a lot of good nutrients, some of them hard to come by from other food items. Some nutritionists calls eggs a superfood because of the health advantages.
2. Beans: 20¢
Beans are inexpensive and healthy! You can read some of my favorite strategies for getting yourself to eat more beans. Beans are a core staple food in some countries such as Costa-Rica, due to their affordability and health benefits.
3. Lentils: 12¢
There are 23g of proteins for 100g of lentils or split green peas, so the cost per gram of proteins is very cheap.
4. Tofu : 60¢
There are 11g of protein for 100g of Tofu. You can increase your protein intake by adding Tofu to a smoothie, or use firm tofu for homemade nuggets.
We did not include vegetarian products also rich in proteins such as seitan ($2.50 per serving) or even Tempeh ($1.25 per serving). While these products provide plenty of proteins and can help make delicious veggie dishes, they remain more expensive.
Vegetables
5. Homemade Hummus: 49¢
Hummus at the store isn't cheap. Luckily, it's super easy and inexpensive to make yourself! You literally just blend everything like crazy until it's smooth. Here's my go-to hummus recipe.
6. Sweet Potatoes: 25¢
You can heat sweet potatoes up in the microwave and eat them like a baked potato. Our favorite way to eat veggies in the winter is to chop sweet potatoes, onions, and carrots and roast them in the oven. Just drizzle olive oil on them and sprinkle salt, pepper, and garlic on top. Bake in a single layer on a pan for 30-40 minutes at 450°, flipping halfway through.
7. Carrots: 20¢
Raw or roasted!
8. Onion: 15¢
Onions are very inexpensive and can be a good addition to any meal.
9. Potatoes: 20¢
We most commonly roast these in the oven, though there are a million ways to eat potatoes.
10. Broccoli: 22¢
We put raw broccoli in his salads which is very filling. We buy a lot of frozen broccoli because it's so inexpensive and easy to cook in the microwave for a few minutes for a healthy side dish.
11. Cucumber: 23¢
We go through a lot of cucumbers. Such a yummy snack.
12. Green Pepper: 28¢
In salads, for a snack, sauteed with scrambled eggs…
13. Pumpkin: 25¢
I bake with a lot of canned pumpkin. It's inexpensive and very filling. Pumpkin wheat pancakes, chocolate pumpkin muffins, pumpkin bread… It adds some nutrition to baked goods.
14. Frozen Stir Fry Veggies: 31¢
Frozen veggies of all kinds are so convenient to have on hand and they go on sale regularly. We keep a bag of frozen stir fry veggies on hand because it makes for a quick dinner. The bag includes stir fry sauce and we can throw in some leftover chicken to make a full meal in 10 minutes.
Fruits
15. Bananas: 22¢
We put bananas in smoothies a lot. They make a great snack too
16. Apples: 31¢
We put apples in lunches or slice them for a side dish at dinner.
17. Pears: 44¢
I can't get enough pears! Fresh pears for lunch, a side dish, or a snack. Canned pears are great in smoothies.
18. Applesauce: 18¢
Natural applesauce (without sugar added) makes a great snack or side at dinner.
Bakery/Grains
19. Wheat Mini Bagels: 16¢
Aldi has whole wheat mini bagels and I'm in love with them. They're good with breakfast of course, but I also dip them in soups or spread them with a little peanut butter and nutella to satisfy my sweet tooth.
20. Whole Grain Tortilla Chips: 22¢
These do cost a bit more than regular tortilla chips (though not too much more if you shop at Aldi). They're so much healthier and more filling though, so I find them to be worth it.
21. Whole Grain Frozen Waffles: 26¢
Around here, the whole grain frozen waffles go on sale along with regular frozen waffles, so they're not any more expensive! They have a bit of a different texture and flavor depending on the brand, so it's good to find out which brand you like the most. They make for a quick breakfast, either with a little syrup or spread with some peanut butter.
22. Sandwich Wraps: 33¢
View our Grocery on a Budget section to discover other cheap grocery lists, free printables, meal planning resources and example real-life budgets to compare your spending.
Related posts:
5 Vegetarian Grocery Lists for Delicious Meals