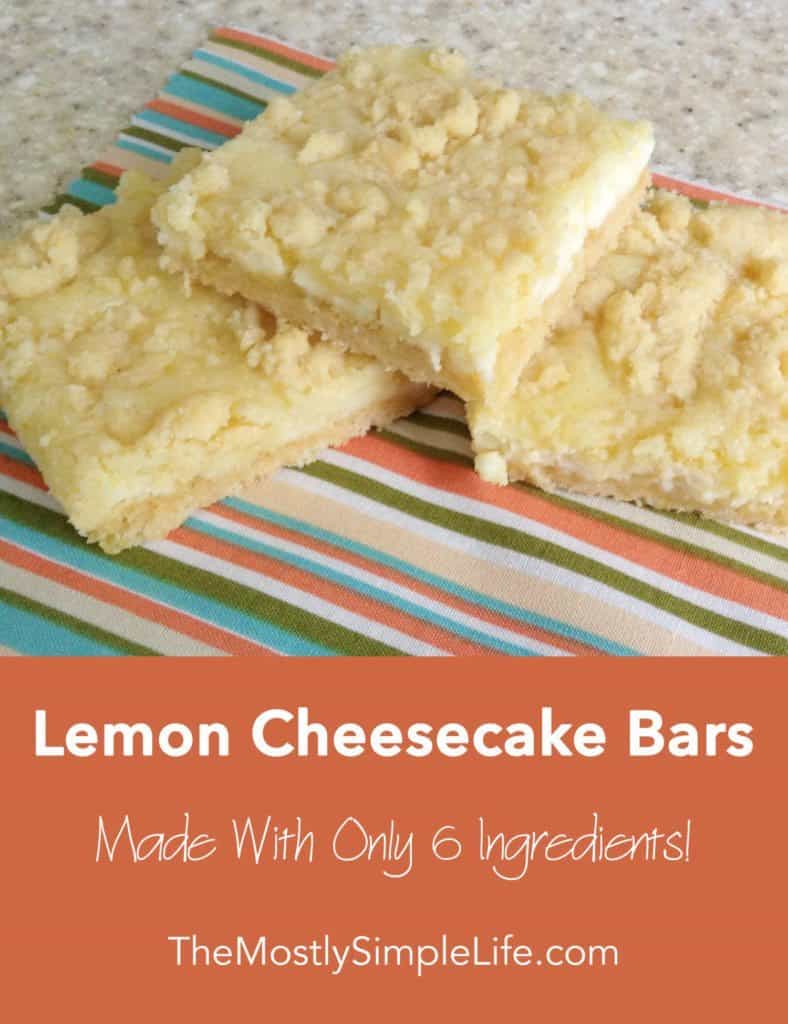 My mom made Lemon Cheesecake Bars quite often while I was growing up and I still crave them all the time.
I've actually never seen a recipe quite like it. You use a box of yellow cake mix as part of the soft, thick crust.
The whole recipe only takes 6 ingredients!
It has a really great texture and always tastes best after it's been refrigerated for a few hours.
The lemon taste isn't very strong at all, but you can tone it down by using orange juice as a substitute. Or you can leave it out entirely for a plain cheesecake bar. I've made these all 3 ways and they're all good!
These are wonderful to make when you're entertaining because they taste best if you make them ahead of time so that they can chill. It doesn't get easier than that!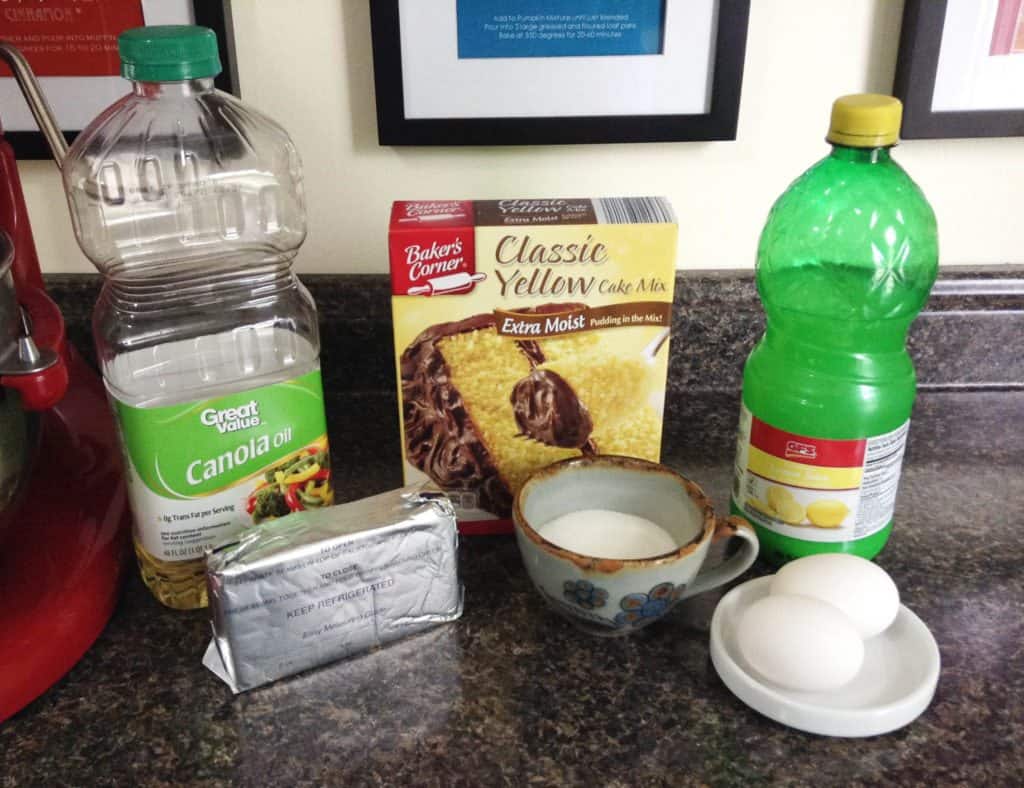 All you need is a box of yellow cake mix, oil, eggs, sugar, cream cheese, and lemon juice. I got a lot of my ingredients at Aldi and the prices were amazing!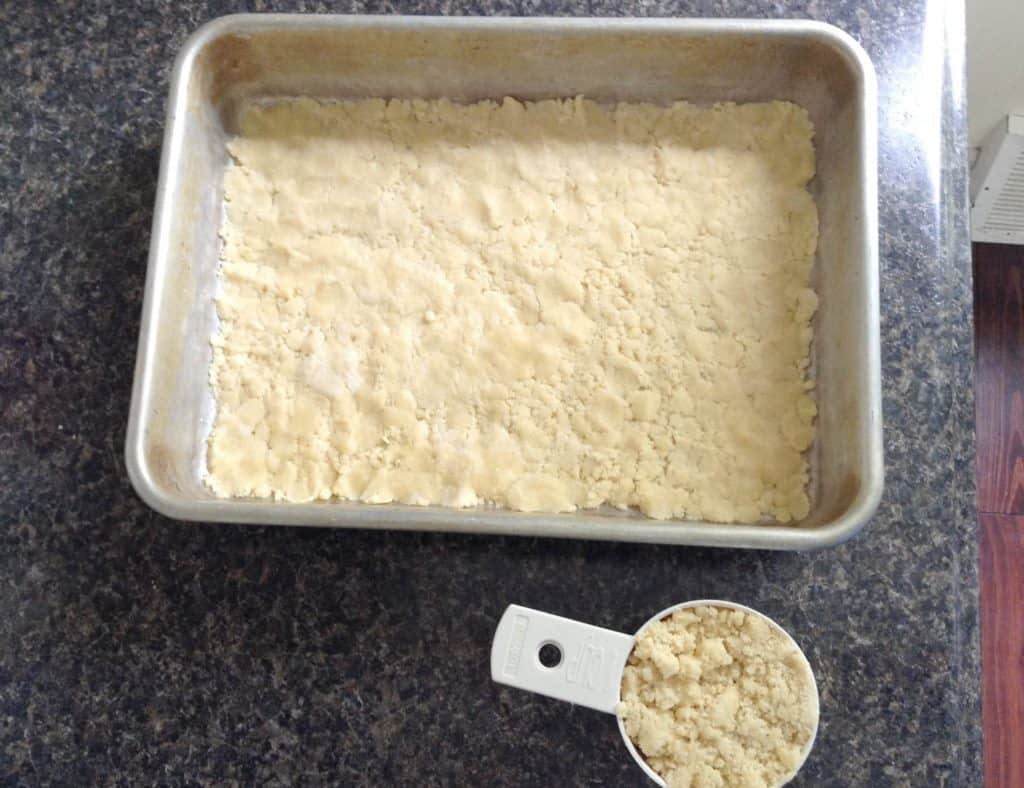 You mix up the cake mix, oil, and one of the eggs to make the crust. Then save out one cup of your crust mixture to add as crumbles on top later. Pat the rest into the pan lightly. Basically, just make sure the bottom of the pan is mostly covered in a thin layer.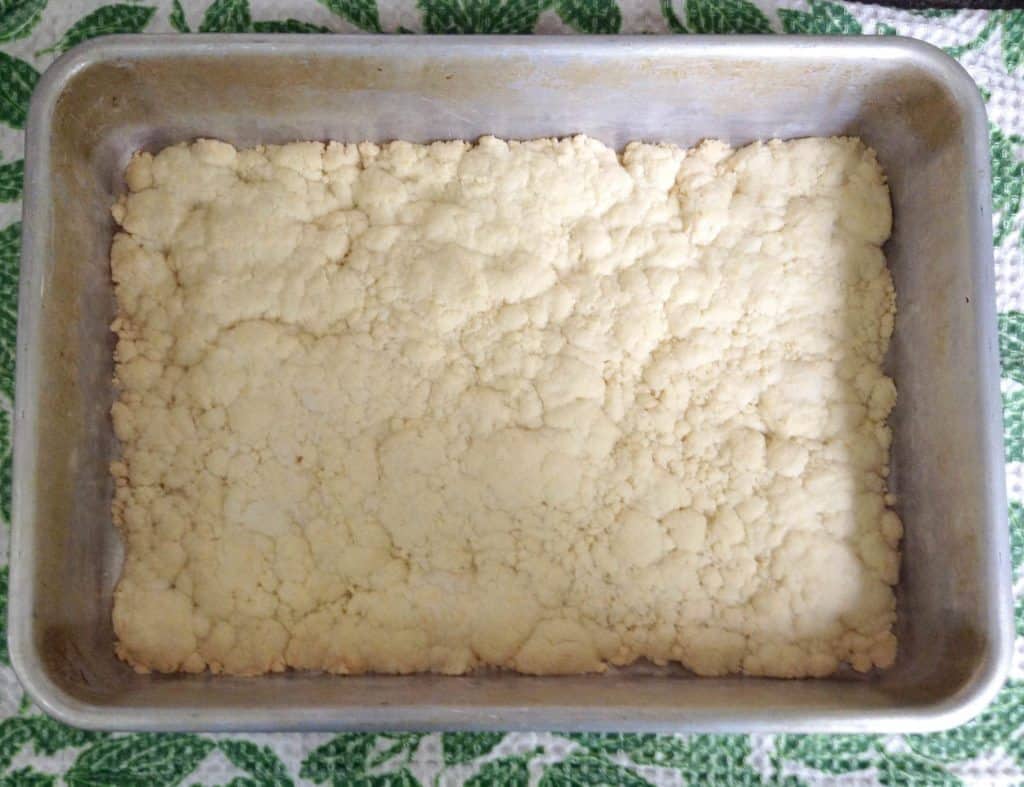 This is what it looks like after you've baked it for 15 minutes.
The crust puffs up a little and is golden on the edges.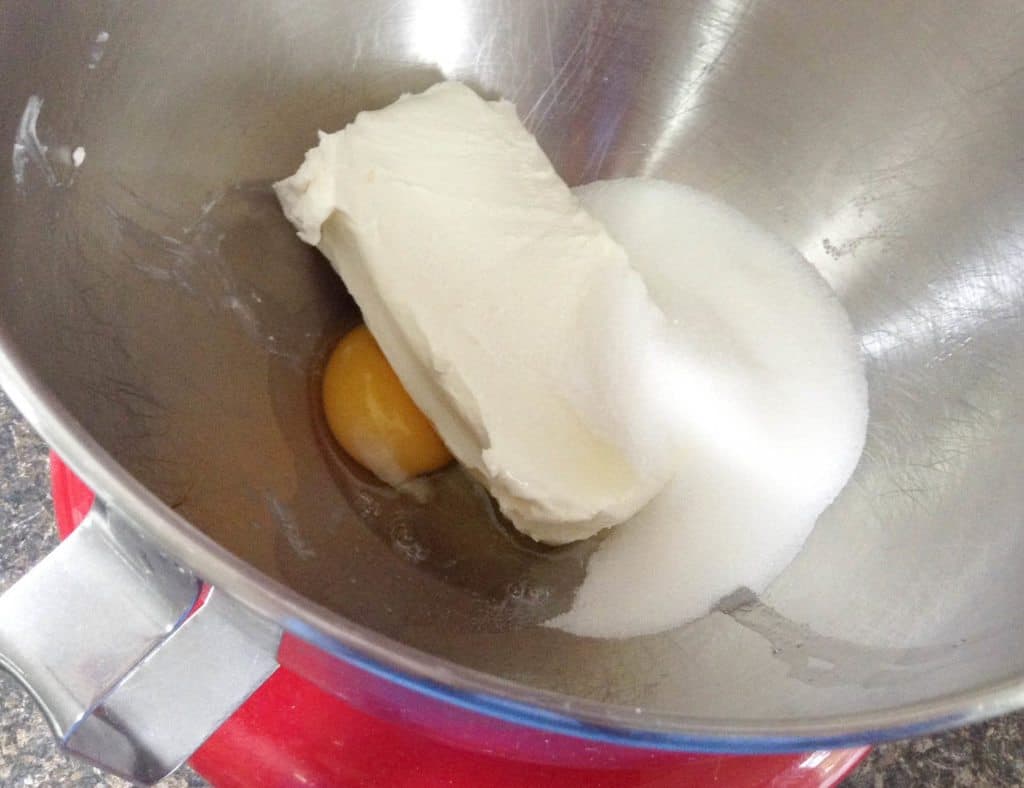 Then to make the cream cheese mixture, beat together the cream cheese, sugar, lemon juice, and the last egg.
You're supposed to blend until smooth, but mine always still has small cream cheese clumps. I think I never have my cream cheese softened enough or something. It all works out after you bake it anyways, so no worries.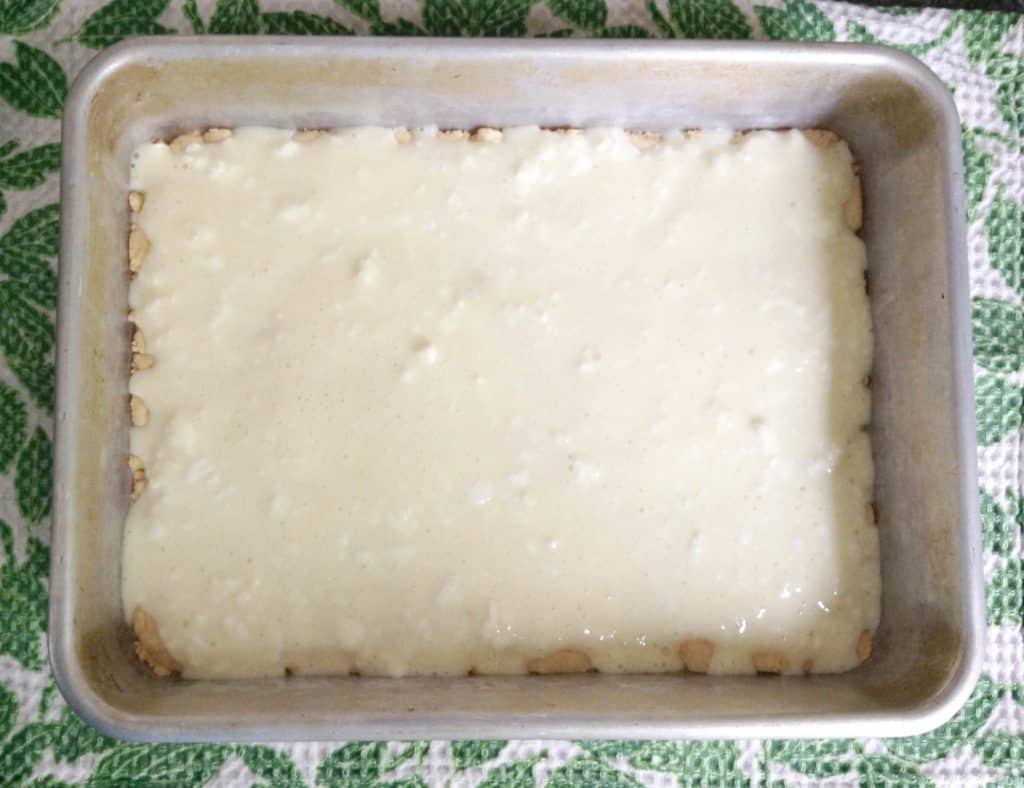 Spread your cream cheese mixture over the hot crust that just came out of the oven.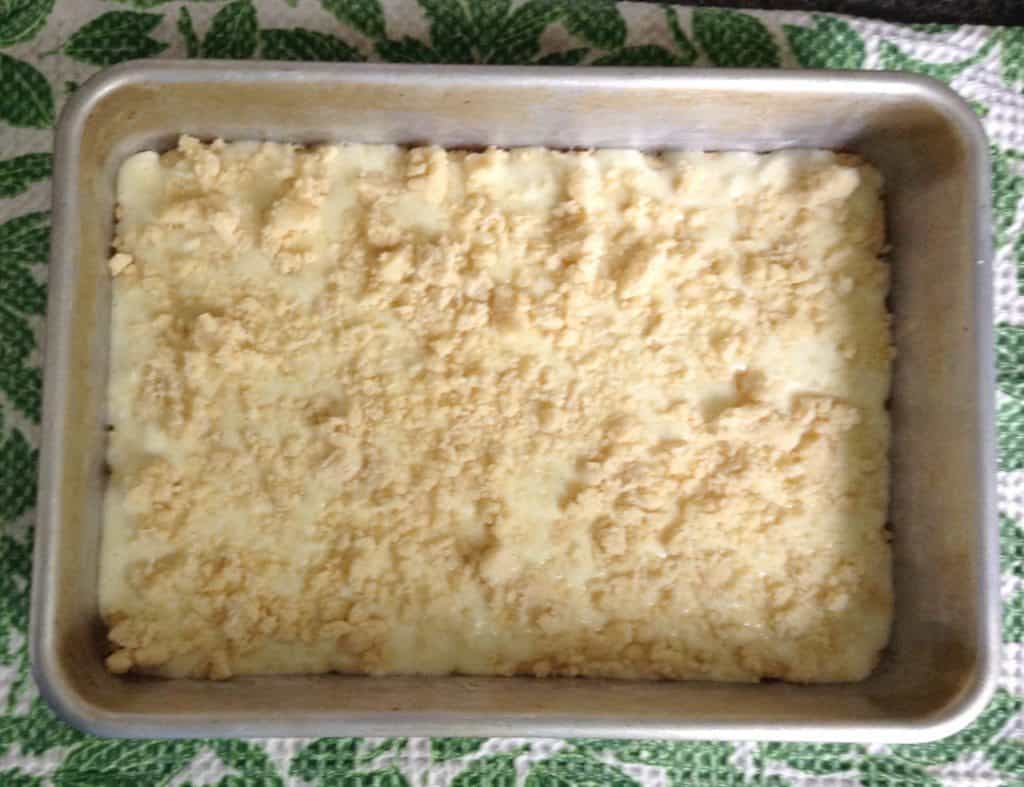 Then sprinkle those reserved crust crumbles on top.
I don't know why, but this is my favorite part. I always save out a little more than a cup of the crust mixture because I like mine to have as many crumbles on top as possible.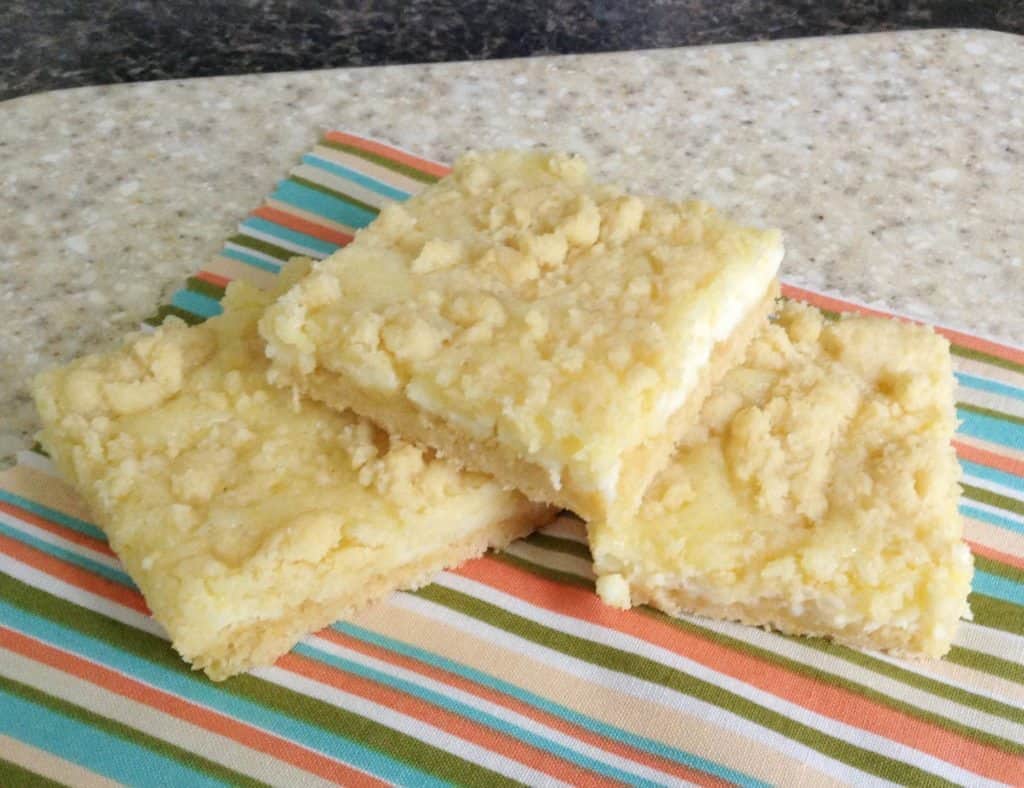 Now comes the most difficult part of all. After the lemon cheesecake bars come out of the oven for the second time and your house smells delicious, you have to wait for them to cool down before you can cut and eat them.
I threw my whole pan in the fridge to cool it down as fast as possible! They taste the best after they've fully chilled for a few hours.
I might have sampled mine a bit early. And then again after the proper amount of time. And then again before bed.
Lemon Cheesecake Bars Recipe
Step One:
Mix together:
1 box yellow cake mix
1 egg
1/3 cup oil
Reserve out 1 cup of cake mixture for later. Lightly pat the rest into an ungreased 9×13 pan. Bake for 15 minutes at 350 degrees.
Step Two:
While baking, beat together:
8 oz cream cheese, softened
1/3 cup sugar
1 tsp lemon juice (bottled is ok)
1 egg
Spread the cream cheese mixture evenly over the hot crust. Sprinkle the top with the cup of reserved cake mixture. Bake for 15 minutes more. Cool and cut.
That's it!!
Don't you love how you can make so many things with cake mix other than cake?
⇒ What's your favorite recipe that uses cake mix?
If you find this page helpful, please pin or share it :)