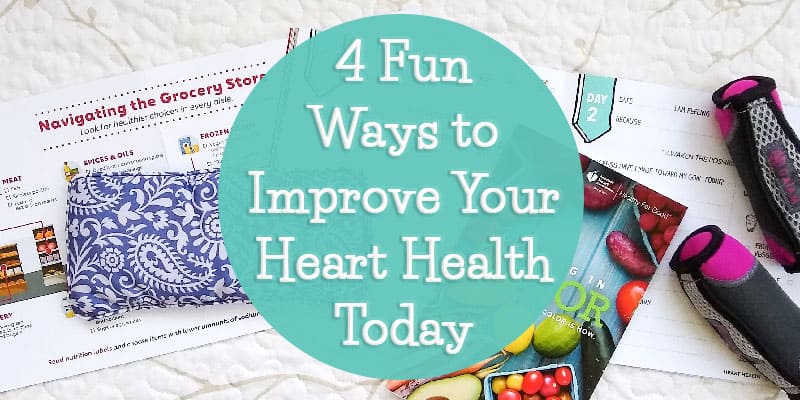 *This post was sponsored by Let's Be Well. All opinions are my own.
Austin and I have taken many small steps over the past few years to improve our health. We've gradually started exercising more, cut out most added sugar, we watch our serving sizes, etc. It's been a slow process, but I can now look back at how we used to live four or more years ago and I see how much healthier we are because of many small changes.
Let's Be Well asked me to review their Healthy Heart Box and I jumped at the chance to be able to talk about the small things you can do to improve your heart health, and your daily life!
Heart health is extra important to me because my grandma died of cardiovascular disease the day after my 16th birthday.
Cardiovascular disease is so incredibly common and I want to be part of the conversation that gets more people thinking about it and making healthier choices for their future! Cardiovascular disease is responsible for one in three deaths, so whether you've been diagnosed or not, it's smart to work at making healthier choices for yourself and everyone you love around you!
Good news: There are a bunch of simple changes you can make to improve your health in a big way! If you want the perfect starter pack to get you on the right track, you can order the Healthy Heart Box from Let's Be Well. As we chat about ways to improve your heart health, you'll see how the Healthy Heart Box can help you jumpstart your health goals.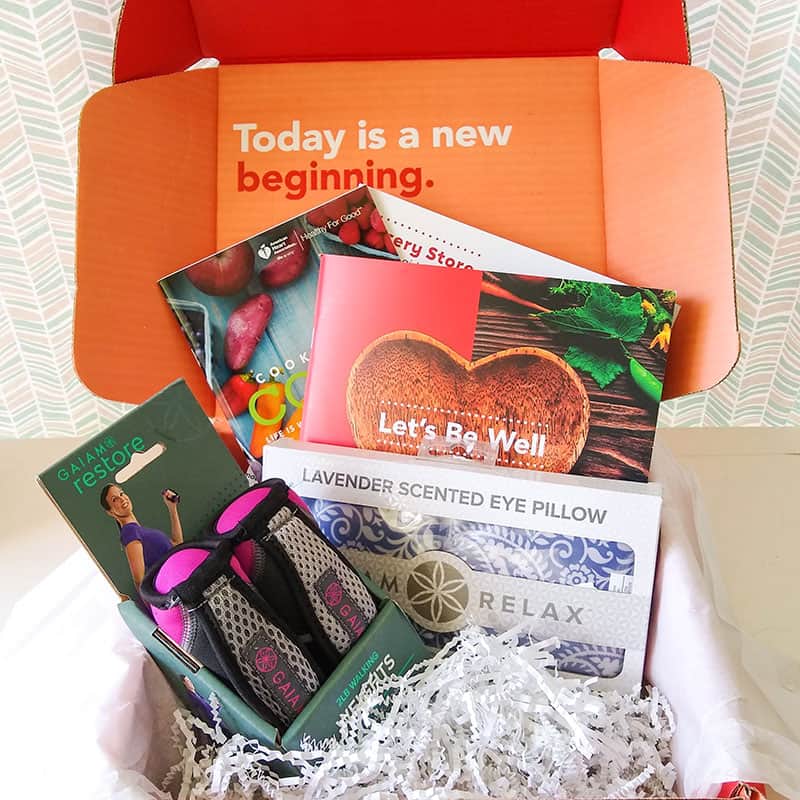 So get ready to do some learning! I want to share four changes that you can make to improve your heart health.
4 Ways to Improve Your Heart Health Today
1. Eat the Rainbow
No, I don't mean colorful candy. I'm talking about eating more fruits and veggies — and a colorful assortment of them.
Ready for some shocking news? Only 1 in 10 US adults eat the recommended amount of fruits and veggies. Yikes! It's pretty safe to assume you're not getting enough produce. A diet filled with fruits and veggies is directly linked to a longer, healthier life, which means lower medical costs! (You know I had to work saving money into this somehow, and it's true!)
This doesn't have to be tricky or confusing. Most forms of fruits and veggies count: fresh, frozen, canned, or dried. They all have great health benefits!
Just two and a half cups of fruits and veggies per day could reduce your risk of heart attack or stroke, so that's a great healthy eating goal to set!
Need some ideas on how to incorporate more produce into your meal plan? The Let's Be Well Healthy Heart Box includes the Cooking in Color Cookbook. It's got heart healthy recipes with tips on how to cook with more color! I'm adding the Bluey Smoothie to my next meal plan.
2. Get Moving
I will never stop recommending that you go for a daily walk! It's the perfect opportunity to get some fresh air, listen to an audiobook, and improve your heart health. When you get moving, you can lower your cholesterol and lower your risk of heart disease!
In case that's not enough motivation for you, I've got some other interesting facts about walking:
For every hour you do of brisk walking, you may increase your life expectancy by two hours.

150 minutes of walking per week can

Increase your energy and stamina.

Boost bone strength so that you're less likely to break a bone or get osteoporosis.

Improve your mental health and reduce your risk of depression.

Prevent weight gain.

Improve your memory.
Basically, walking is fabulous. If 150 minutes seems like too big of a goal, start smaller. A walk around the block after dinner every night is a great place to start.
To get even more out of your walks, you can add some light resistance with walking weights. I am a huge proponent of strength training, so I love that the Healthy Heart Box includes a set of two-pound sand filled walking weights. They're soft and easy to hold (not like a set of hard dumbbells) so they're perfect to take out on a walk.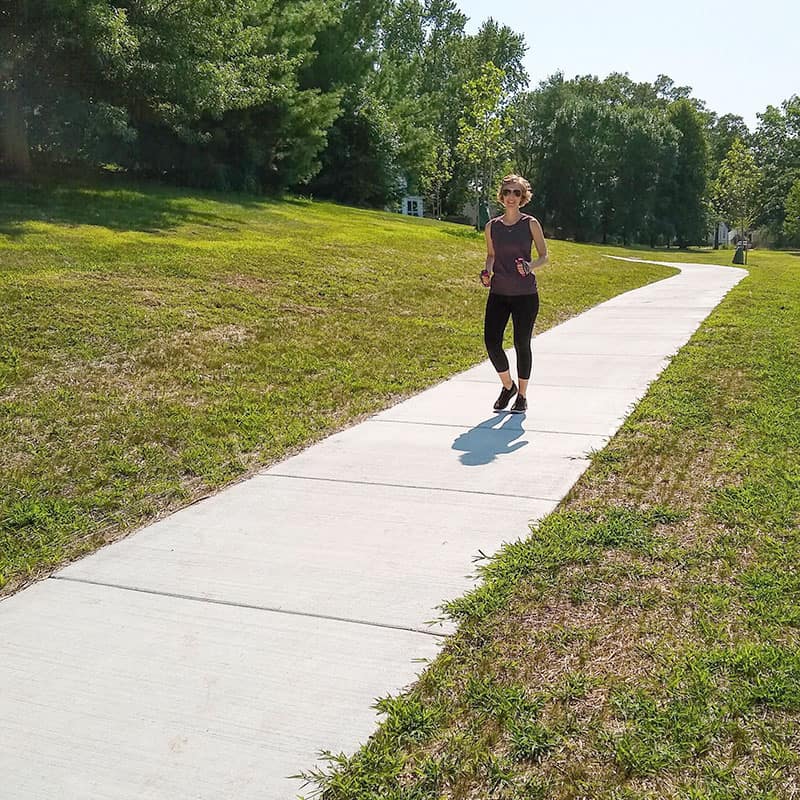 3. Stress Less
Easier said than done, right?
I didn't realize how much stress can have a negative impact on your heart health. Sleeping too little and sleeping disorders are both associated with cardiovascular risk. Plus, stress is usually an underlying factor in unhealthy behaviors, like eating junk food, drinking too much alcohol, or being too tired to exercise. I've definitely been guilty being making unhealthy choices because I was super tired!
It all makes sense, right? But how do you lower your stress? Well, there are actually some practical things you can do.
Get Moving! It's a great way to relieve tension in your body and mind so that you can sleep better.
Practice Gratitude. Most nights before bed, Austin and I each say three specific things we're grateful for that day. On a tough day, it brings us happiness to purposefully look for the good stuff.
Calm and Quiet Time. A few minutes of quiet along with a few deep breaths does wonders for me. I've been meditating each night before bed (focusing on my breathing) and it has helped me fall asleep faster.
To help you relax, there's a super luxurious lavender eye mask included in the Healthy Heart Box! It's satin covered and smells amazing. Plus, it can be warmed in the microwave or cooled in the freezer before use.
My cold eye mask broke last week and I was so excited to put this one in the freezer so that I could start using it immediately.
4. Keep Learning
The best way to improve your health is to educate yourself and then start making changes based on your new knowledge.
I was really impressed at the clear and simple information in the Healthy Heart Box! There's a guide to help you navigate each section of your grocery store. It points out what the healthier choices are in each aisle so that you can make some healthy swaps.
There's also an informational booklet and journal. It explains the basics of heart health, gives you questions you can ask your doctor, and provides practical steps you can start taking immediately to help your heart. You know I love simple, actionable advice, and the booklet provides it perfectly!
The 21 day journal will help you get started with new healthy habits. Each day you will record which "wellness elements" you included in your day, write down what you're grateful for, and journal about your progress towards the goals you've set.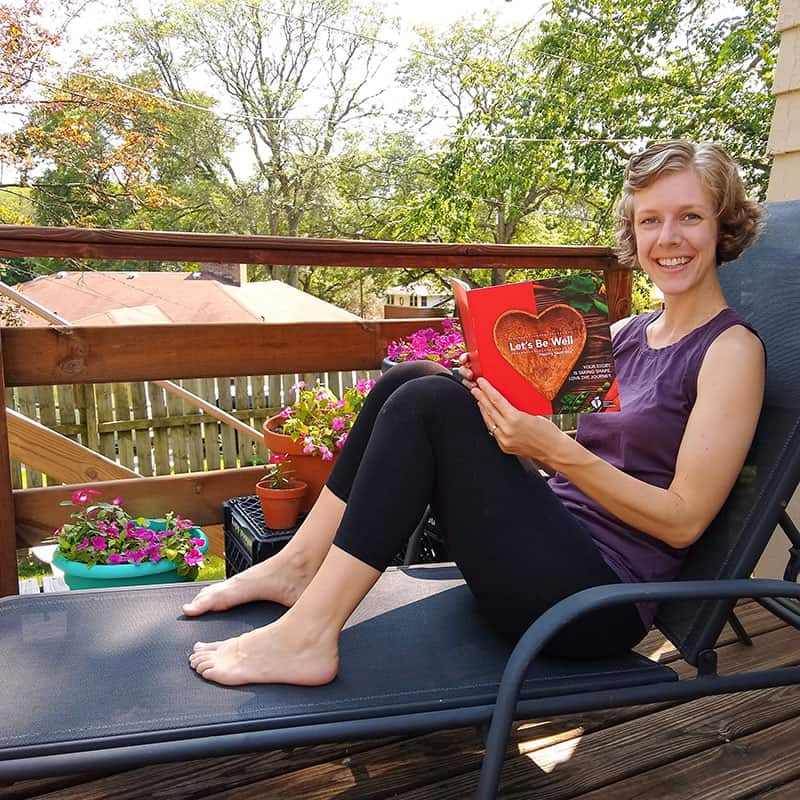 Who Is The Let's Be Well Healthy Heart Box For?
The box is perfect for anyone recently diagnosed with a heart condition (like high blood pressure or high cholesterol) who wants to take charge of their health. It's everything you need to get started delivered right to your door.
The Healthy Heart Box is also great for anyone concerned about their heart health. Maybe you've already been diagnosed with a heart condition or know that cardiovascular disease runs in your family. It's never too early to form healthy habits that will make a difference in your life for years to come.
Lastly, I think the box would make a lovely gift! Giving someone everything they need to start improving their health says how much you care about them!
The Let's Be Well Healthy Heart Box costs $29.99 and gives you practical tools to manage your heart health. Click here to order yours!