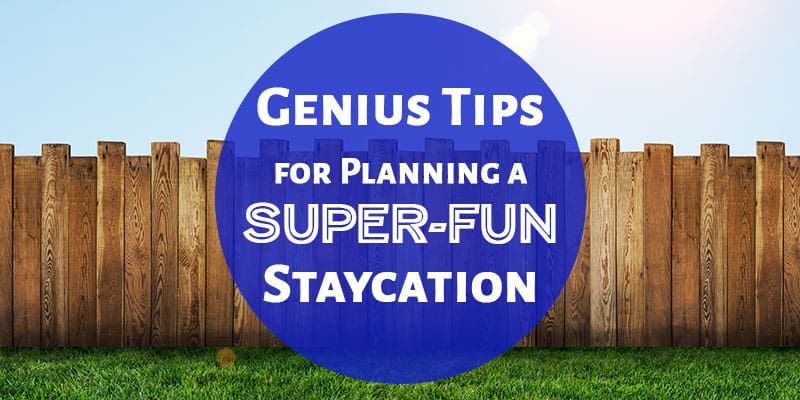 Since we're trying to pay off all of our debt this year, we don't have any big trips planned. I have, however, been getting excited about the idea of a staycation! Like, really excited!
There are so many cool things in our city what we never make the time to enjoy: Amazing breweries and restaurants, museums, a wildlife park, and more festivals than I can count. Plus, we live within 45 minutes of Lake Michigan, which means beach days are always within reach.
So while we won't be traveling anywhere, I'm thinking we'll have a lot of fun with our time off. Just to make sure we have the most fabulous staycation possible, I've been looking up advice from other bloggers and I found some great ideas that I hadn't thought of…
Genius Tips for Planning a Super-Fun Staycation
I hadn't thought about how to make staying at home seem more vacation-like. I loved the advice in the pinned article below about spending time cleaning and doing chores the day before your staycation starts so that you can relax and have fun – no chores allowed! I'll definitely be setting out some fresh flowers and buying the good coffee as well to make staying home feel more special.

I'm loving all of the ideas for a winter staycation. In Michigan, it's not uncommon to have a blizzard during spring break, so unless you're heading south, you might not get outside much. There are some really creative activities listed!

The advice in the post below of taking pictures like you would on any other vacation is so good. I'm terrible at taking photos and I could see myself forgetting to take photos on our staycation because we're still in our hometown and not somewhere new. Our budget probably won't allow it this year, but I'd love to stay at a hotel in our city. There are some gorgeous hotels that would be so much fun to stay in!

When we're on vacation, we're using technology a lot less, so I love the idea of a technology blackout.

We're definitely planning on doing a lot of the fun activities the post below mentions, like checking out some new-to-us coffee shops, trying restaurants we've had on our list, going to the movies, and maybe I'll try to squeeze in a pedicure.

And just in case there weren't enough good ideas yet, I found a whole bunch more!


⇒ Have you done a staycation? Got any staycation tips for me?
Free Customizable Budget & Spending Tracker Spreadsheet
Stress less about your finances today with the spreadsheet I use each month to create our budget and track our spending!